{"id":6894915322010,"title":"Elastic Braided Slippers","handle":"elastic-braided-slippers","description":"\u003cp data-mce-fragment=\"1\"\u003e\u003cspan style=\"color: #ff2a00;\"\u003e\u003cstrong\u003eFEATURES\u003c\/strong\u003e\u003c\/span\u003e\u003c\/p\u003e\n\u003cul\u003e\n\u003cli\u003e\u003cstrong data-mce-fragment=\"1\"\u003e\u003cspan data-mce-fragment=\"1\"\u003eHigh-quality Soft Fabric\u003c\/span\u003e\u003c\/strong\u003e\u003c\/li\u003e\n\u003c\/ul\u003e\n\u003cp style=\"padding-left: 30px;\" data-mce-fragment=\"1\"\u003eThe high-quality upper, moisture-wicking, breathable, prevents overheating and odor, and the sole is light and non-slip, ensuring a comfortable and safe wearing experience.\u003c\/p\u003e\n\u003cul\u003e\n\u003cli\u003e\u003cstrong data-mce-fragment=\"1\"\u003e\u003cspan data-mce-fragment=\"1\"\u003eAnti-collision Toe Cap\u003c\/span\u003e\u003c\/strong\u003e\u003c\/li\u003e\n\u003c\/ul\u003e\n\u003cp style=\"padding-left: 30px;\" data-mce-fragment=\"1\"\u003eThe personalized toe cap design is made of comfortable materials, showing meticulous workmanship.\u003c\/p\u003e\n\u003cul\u003e\n\u003cli\u003e\u003cstrong data-mce-fragment=\"1\"\u003e\u003cspan data-mce-fragment=\"1\"\u003eWear-resistant Sole\u003c\/span\u003e\u003c\/strong\u003e\u003c\/li\u003e\n\u003c\/ul\u003e\n\u003cp style=\"padding-left: 30px;\" data-mce-fragment=\"1\"\u003eThe well-designed non-slip base, lightweight material, increases friction and makes walking more comfortable.\u003c\/p\u003e\n\u003cul\u003e\n\u003cli\u003e\u003cstrong data-mce-fragment=\"1\"\u003e\u003cspan data-mce-fragment=\"1\"\u003eHuman Physiology Design\u003c\/span\u003e\u003c\/strong\u003e\u003c\/li\u003e\n\u003c\/ul\u003e\n\u003cp style=\"padding-left: 30px;\" data-mce-fragment=\"1\"\u003eAccording to the human physiology design, the whole pair of shoes are beautiful and comfortable. Fashionable footbed design, soft and skin-friendly, comfortable, and does no footwear, care for your feet.\u003c\/p\u003e\n\u003cp\u003e\u003cspan style=\"color: #ff2a00;\"\u003e\u003cstrong\u003eSIZE TABLE\u003c\/strong\u003e\u003c\/span\u003e\u003c\/p\u003e\n\u003cp\u003e\u003cimg src=\"https:\/\/cdn.shopifycdn.net\/s\/files\/1\/0356\/3048\/1544\/files\/c03aa05e7e87f81ee2ee57782e55ad5e_480x480.png?v=1626934223\" alt=\"\" style=\"display: block; margin-left: auto; margin-right: auto;\" data-mce-fragment=\"1\" data-mce-src=\"https:\/\/cdn.shopifycdn.net\/s\/files\/1\/0356\/3048\/1544\/files\/c03aa05e7e87f81ee2ee57782e55ad5e_480x480.png?v=1626934223\"\u003e\u003c\/p\u003e\n\u003cp\u003e\u003cspan style=\"color: #ff2a00;\"\u003e\u003cstrong\u003eSPECIFICATIONS\u003c\/strong\u003e\u003c\/span\u003e\u003c\/p\u003e\n\u003cul\u003e\n\u003cli\u003e\n\u003cstrong\u003eMaterial:\u003c\/strong\u003e PU upper\u003c\/li\u003e\n\u003cli\u003e\n\u003cstrong\u003eSize:\u003c\/strong\u003e 35-40\u003c\/li\u003e\n\u003cli\u003e\n\u003cstrong\u003eColor:\u003c\/strong\u003e yellow\/green\/black\/white\u003c\/li\u003e\n\u003cli\u003e\n\u003cstrong\u003ePackage:\u003c\/strong\u003e 1 pair of Elastic Braided Slippers\u003c\/li\u003e\n\u003c\/ul\u003e\n\u003cp\u003e\u003cspan style=\"color: #ff2a00;\"\u003e\u003cstrong\u003eNOTE\u003c\/strong\u003e\u003c\/span\u003e\u003c\/p\u003e\n\u003cp\u003ePlease allow slight measurement deviations due to manual measurement.\u003c\/p\u003e\n\u003cp\u003eDue to the different monitor and light effect, the actual color of the item might be slightly different from the color showed in the pictures.\u003c\/p\u003e","published_at":"2021-07-21T20:43:06-10:00","created_at":"2021-07-21T20:43:12-10:00","vendor":"Yochoos","type":"Sandals","tags":["sandals","slippers"],"price":2999,"price_min":2999,"price_max":2999,"available":true,"price_varies":false,"compare_at_price":0,"compare_at_price_min":0,"compare_at_price_max":0,"compare_at_price_varies":false,"variants":[{"id":40404049100954,"title":"yellow \/ 35","option1":"yellow","option2":"35","option3":null,"sku":"SH18979-C022-S062","requires_shipping":true,"taxable":false,"featured_image":{"id":30309218058394,"product_id":6894915322010,"position":4,"created_at":"2021-07-21T20:43:12-10:00","updated_at":"2021-07-21T20:43:12-10:00","alt":null,"width":800,"height":800,"src":"https:\/\/cdn.shopify.com\/s\/files\/1\/0467\/9080\/3610\/products\/4_2cf60167-6c73-4cec-98a2-7206dd80073c.png?v=1626936192","variant_ids":[40404049100954,40404049133722,40404049166490,40404049199258,40404049232026,40404049264794]},"available":true,"name":"Elastic Braided Slippers - yellow \/ 35","public_title":"yellow \/ 35","options":["yellow","35"],"price":2999,"weight":0,"compare_at_price":0,"inventory_management":null,"barcode":null,"featured_media":{"alt":null,"id":22719124177050,"position":4,"preview_image":{"aspect_ratio":1.0,"height":800,"width":800,"src":"https:\/\/cdn.shopify.com\/s\/files\/1\/0467\/9080\/3610\/products\/4_2cf60167-6c73-4cec-98a2-7206dd80073c.png?v=1626936192"}},"requires_selling_plan":false,"selling_plan_allocations":[]},{"id":40404049133722,"title":"yellow \/ 36","option1":"yellow","option2":"36","option3":null,"sku":"SH18979-C022-S063","requires_shipping":true,"taxable":false,"featured_image":{"id":30309218058394,"product_id":6894915322010,"position":4,"created_at":"2021-07-21T20:43:12-10:00","updated_at":"2021-07-21T20:43:12-10:00","alt":null,"width":800,"height":800,"src":"https:\/\/cdn.shopify.com\/s\/files\/1\/0467\/9080\/3610\/products\/4_2cf60167-6c73-4cec-98a2-7206dd80073c.png?v=1626936192","variant_ids":[40404049100954,40404049133722,40404049166490,40404049199258,40404049232026,40404049264794]},"available":true,"name":"Elastic Braided Slippers - yellow \/ 36","public_title":"yellow \/ 36","options":["yellow","36"],"price":2999,"weight":0,"compare_at_price":0,"inventory_management":null,"barcode":null,"featured_media":{"alt":null,"id":22719124177050,"position":4,"preview_image":{"aspect_ratio":1.0,"height":800,"width":800,"src":"https:\/\/cdn.shopify.com\/s\/files\/1\/0467\/9080\/3610\/products\/4_2cf60167-6c73-4cec-98a2-7206dd80073c.png?v=1626936192"}},"requires_selling_plan":false,"selling_plan_allocations":[]},{"id":40404049166490,"title":"yellow \/ 37","option1":"yellow","option2":"37","option3":null,"sku":"SH18979-C022-S064","requires_shipping":true,"taxable":false,"featured_image":{"id":30309218058394,"product_id":6894915322010,"position":4,"created_at":"2021-07-21T20:43:12-10:00","updated_at":"2021-07-21T20:43:12-10:00","alt":null,"width":800,"height":800,"src":"https:\/\/cdn.shopify.com\/s\/files\/1\/0467\/9080\/3610\/products\/4_2cf60167-6c73-4cec-98a2-7206dd80073c.png?v=1626936192","variant_ids":[40404049100954,40404049133722,40404049166490,40404049199258,40404049232026,40404049264794]},"available":true,"name":"Elastic Braided Slippers - yellow \/ 37","public_title":"yellow \/ 37","options":["yellow","37"],"price":2999,"weight":0,"compare_at_price":0,"inventory_management":null,"barcode":null,"featured_media":{"alt":null,"id":22719124177050,"position":4,"preview_image":{"aspect_ratio":1.0,"height":800,"width":800,"src":"https:\/\/cdn.shopify.com\/s\/files\/1\/0467\/9080\/3610\/products\/4_2cf60167-6c73-4cec-98a2-7206dd80073c.png?v=1626936192"}},"requires_selling_plan":false,"selling_plan_allocations":[]},{"id":40404049199258,"title":"yellow \/ 38","option1":"yellow","option2":"38","option3":null,"sku":"SH18979-C022-S065","requires_shipping":true,"taxable":false,"featured_image":{"id":30309218058394,"product_id":6894915322010,"position":4,"created_at":"2021-07-21T20:43:12-10:00","updated_at":"2021-07-21T20:43:12-10:00","alt":null,"width":800,"height":800,"src":"https:\/\/cdn.shopify.com\/s\/files\/1\/0467\/9080\/3610\/products\/4_2cf60167-6c73-4cec-98a2-7206dd80073c.png?v=1626936192","variant_ids":[40404049100954,40404049133722,40404049166490,40404049199258,40404049232026,40404049264794]},"available":true,"name":"Elastic Braided Slippers - yellow \/ 38","public_title":"yellow \/ 38","options":["yellow","38"],"price":2999,"weight":0,"compare_at_price":0,"inventory_management":null,"barcode":null,"featured_media":{"alt":null,"id":22719124177050,"position":4,"preview_image":{"aspect_ratio":1.0,"height":800,"width":800,"src":"https:\/\/cdn.shopify.com\/s\/files\/1\/0467\/9080\/3610\/products\/4_2cf60167-6c73-4cec-98a2-7206dd80073c.png?v=1626936192"}},"requires_selling_plan":false,"selling_plan_allocations":[]},{"id":40404049232026,"title":"yellow \/ 39","option1":"yellow","option2":"39","option3":null,"sku":"SH18979-C022-S066","requires_shipping":true,"taxable":false,"featured_image":{"id":30309218058394,"product_id":6894915322010,"position":4,"created_at":"2021-07-21T20:43:12-10:00","updated_at":"2021-07-21T20:43:12-10:00","alt":null,"width":800,"height":800,"src":"https:\/\/cdn.shopify.com\/s\/files\/1\/0467\/9080\/3610\/products\/4_2cf60167-6c73-4cec-98a2-7206dd80073c.png?v=1626936192","variant_ids":[40404049100954,40404049133722,40404049166490,40404049199258,40404049232026,40404049264794]},"available":true,"name":"Elastic Braided Slippers - yellow \/ 39","public_title":"yellow \/ 39","options":["yellow","39"],"price":2999,"weight":0,"compare_at_price":0,"inventory_management":null,"barcode":null,"featured_media":{"alt":null,"id":22719124177050,"position":4,"preview_image":{"aspect_ratio":1.0,"height":800,"width":800,"src":"https:\/\/cdn.shopify.com\/s\/files\/1\/0467\/9080\/3610\/products\/4_2cf60167-6c73-4cec-98a2-7206dd80073c.png?v=1626936192"}},"requires_selling_plan":false,"selling_plan_allocations":[]},{"id":40404049264794,"title":"yellow \/ 40","option1":"yellow","option2":"40","option3":null,"sku":"SH18979-C022-S067","requires_shipping":true,"taxable":false,"featured_image":{"id":30309218058394,"product_id":6894915322010,"position":4,"created_at":"2021-07-21T20:43:12-10:00","updated_at":"2021-07-21T20:43:12-10:00","alt":null,"width":800,"height":800,"src":"https:\/\/cdn.shopify.com\/s\/files\/1\/0467\/9080\/3610\/products\/4_2cf60167-6c73-4cec-98a2-7206dd80073c.png?v=1626936192","variant_ids":[40404049100954,40404049133722,40404049166490,40404049199258,40404049232026,40404049264794]},"available":true,"name":"Elastic Braided Slippers - yellow \/ 40","public_title":"yellow \/ 40","options":["yellow","40"],"price":2999,"weight":0,"compare_at_price":0,"inventory_management":null,"barcode":null,"featured_media":{"alt":null,"id":22719124177050,"position":4,"preview_image":{"aspect_ratio":1.0,"height":800,"width":800,"src":"https:\/\/cdn.shopify.com\/s\/files\/1\/0467\/9080\/3610\/products\/4_2cf60167-6c73-4cec-98a2-7206dd80073c.png?v=1626936192"}},"requires_selling_plan":false,"selling_plan_allocations":[]},{"id":40404049297562,"title":"green \/ 35","option1":"green","option2":"35","option3":null,"sku":"SH18979-C023-S062","requires_shipping":true,"taxable":false,"featured_image":{"id":30309218123930,"product_id":6894915322010,"position":6,"created_at":"2021-07-21T20:43:12-10:00","updated_at":"2021-07-21T20:43:12-10:00","alt":null,"width":800,"height":800,"src":"https:\/\/cdn.shopify.com\/s\/files\/1\/0467\/9080\/3610\/products\/6_df8e4da0-2242-41e8-92ab-f9ae9ea94432.png?v=1626936192","variant_ids":[40404049297562,40404049330330,40404049363098,40404049395866,40404049428634,40404049461402]},"available":true,"name":"Elastic Braided Slippers - green \/ 35","public_title":"green \/ 35","options":["green","35"],"price":2999,"weight":0,"compare_at_price":0,"inventory_management":null,"barcode":null,"featured_media":{"alt":null,"id":22719124242586,"position":6,"preview_image":{"aspect_ratio":1.0,"height":800,"width":800,"src":"https:\/\/cdn.shopify.com\/s\/files\/1\/0467\/9080\/3610\/products\/6_df8e4da0-2242-41e8-92ab-f9ae9ea94432.png?v=1626936192"}},"requires_selling_plan":false,"selling_plan_allocations":[]},{"id":40404049330330,"title":"green \/ 36","option1":"green","option2":"36","option3":null,"sku":"SH18979-C023-S063","requires_shipping":true,"taxable":false,"featured_image":{"id":30309218123930,"product_id":6894915322010,"position":6,"created_at":"2021-07-21T20:43:12-10:00","updated_at":"2021-07-21T20:43:12-10:00","alt":null,"width":800,"height":800,"src":"https:\/\/cdn.shopify.com\/s\/files\/1\/0467\/9080\/3610\/products\/6_df8e4da0-2242-41e8-92ab-f9ae9ea94432.png?v=1626936192","variant_ids":[40404049297562,40404049330330,40404049363098,40404049395866,40404049428634,40404049461402]},"available":true,"name":"Elastic Braided Slippers - green \/ 36","public_title":"green \/ 36","options":["green","36"],"price":2999,"weight":0,"compare_at_price":0,"inventory_management":null,"barcode":null,"featured_media":{"alt":null,"id":22719124242586,"position":6,"preview_image":{"aspect_ratio":1.0,"height":800,"width":800,"src":"https:\/\/cdn.shopify.com\/s\/files\/1\/0467\/9080\/3610\/products\/6_df8e4da0-2242-41e8-92ab-f9ae9ea94432.png?v=1626936192"}},"requires_selling_plan":false,"selling_plan_allocations":[]},{"id":40404049363098,"title":"green \/ 37","option1":"green","option2":"37","option3":null,"sku":"SH18979-C023-S064","requires_shipping":true,"taxable":false,"featured_image":{"id":30309218123930,"product_id":6894915322010,"position":6,"created_at":"2021-07-21T20:43:12-10:00","updated_at":"2021-07-21T20:43:12-10:00","alt":null,"width":800,"height":800,"src":"https:\/\/cdn.shopify.com\/s\/files\/1\/0467\/9080\/3610\/products\/6_df8e4da0-2242-41e8-92ab-f9ae9ea94432.png?v=1626936192","variant_ids":[40404049297562,40404049330330,40404049363098,40404049395866,40404049428634,40404049461402]},"available":true,"name":"Elastic Braided Slippers - green \/ 37","public_title":"green \/ 37","options":["green","37"],"price":2999,"weight":0,"compare_at_price":0,"inventory_management":null,"barcode":null,"featured_media":{"alt":null,"id":22719124242586,"position":6,"preview_image":{"aspect_ratio":1.0,"height":800,"width":800,"src":"https:\/\/cdn.shopify.com\/s\/files\/1\/0467\/9080\/3610\/products\/6_df8e4da0-2242-41e8-92ab-f9ae9ea94432.png?v=1626936192"}},"requires_selling_plan":false,"selling_plan_allocations":[]},{"id":40404049395866,"title":"green \/ 38","option1":"green","option2":"38","option3":null,"sku":"SH18979-C023-S065","requires_shipping":true,"taxable":false,"featured_image":{"id":30309218123930,"product_id":6894915322010,"position":6,"created_at":"2021-07-21T20:43:12-10:00","updated_at":"2021-07-21T20:43:12-10:00","alt":null,"width":800,"height":800,"src":"https:\/\/cdn.shopify.com\/s\/files\/1\/0467\/9080\/3610\/products\/6_df8e4da0-2242-41e8-92ab-f9ae9ea94432.png?v=1626936192","variant_ids":[40404049297562,40404049330330,40404049363098,40404049395866,40404049428634,40404049461402]},"available":true,"name":"Elastic Braided Slippers - green \/ 38","public_title":"green \/ 38","options":["green","38"],"price":2999,"weight":0,"compare_at_price":0,"inventory_management":null,"barcode":null,"featured_media":{"alt":null,"id":22719124242586,"position":6,"preview_image":{"aspect_ratio":1.0,"height":800,"width":800,"src":"https:\/\/cdn.shopify.com\/s\/files\/1\/0467\/9080\/3610\/products\/6_df8e4da0-2242-41e8-92ab-f9ae9ea94432.png?v=1626936192"}},"requires_selling_plan":false,"selling_plan_allocations":[]},{"id":40404049428634,"title":"green \/ 39","option1":"green","option2":"39","option3":null,"sku":"SH18979-C023-S066","requires_shipping":true,"taxable":false,"featured_image":{"id":30309218123930,"product_id":6894915322010,"position":6,"created_at":"2021-07-21T20:43:12-10:00","updated_at":"2021-07-21T20:43:12-10:00","alt":null,"width":800,"height":800,"src":"https:\/\/cdn.shopify.com\/s\/files\/1\/0467\/9080\/3610\/products\/6_df8e4da0-2242-41e8-92ab-f9ae9ea94432.png?v=1626936192","variant_ids":[40404049297562,40404049330330,40404049363098,40404049395866,40404049428634,40404049461402]},"available":true,"name":"Elastic Braided Slippers - green \/ 39","public_title":"green \/ 39","options":["green","39"],"price":2999,"weight":0,"compare_at_price":0,"inventory_management":null,"barcode":null,"featured_media":{"alt":null,"id":22719124242586,"position":6,"preview_image":{"aspect_ratio":1.0,"height":800,"width":800,"src":"https:\/\/cdn.shopify.com\/s\/files\/1\/0467\/9080\/3610\/products\/6_df8e4da0-2242-41e8-92ab-f9ae9ea94432.png?v=1626936192"}},"requires_selling_plan":false,"selling_plan_allocations":[]},{"id":40404049461402,"title":"green \/ 40","option1":"green","option2":"40","option3":null,"sku":"SH18979-C023-S067","requires_shipping":true,"taxable":false,"featured_image":{"id":30309218123930,"product_id":6894915322010,"position":6,"created_at":"2021-07-21T20:43:12-10:00","updated_at":"2021-07-21T20:43:12-10:00","alt":null,"width":800,"height":800,"src":"https:\/\/cdn.shopify.com\/s\/files\/1\/0467\/9080\/3610\/products\/6_df8e4da0-2242-41e8-92ab-f9ae9ea94432.png?v=1626936192","variant_ids":[40404049297562,40404049330330,40404049363098,40404049395866,40404049428634,40404049461402]},"available":true,"name":"Elastic Braided Slippers - green \/ 40","public_title":"green \/ 40","options":["green","40"],"price":2999,"weight":0,"compare_at_price":0,"inventory_management":null,"barcode":null,"featured_media":{"alt":null,"id":22719124242586,"position":6,"preview_image":{"aspect_ratio":1.0,"height":800,"width":800,"src":"https:\/\/cdn.shopify.com\/s\/files\/1\/0467\/9080\/3610\/products\/6_df8e4da0-2242-41e8-92ab-f9ae9ea94432.png?v=1626936192"}},"requires_selling_plan":false,"selling_plan_allocations":[]},{"id":40404049494170,"title":"black \/ 35","option1":"black","option2":"35","option3":null,"sku":"SH18979-C020-S062","requires_shipping":true,"taxable":false,"featured_image":{"id":30309218189466,"product_id":6894915322010,"position":8,"created_at":"2021-07-21T20:43:12-10:00","updated_at":"2021-07-21T20:43:12-10:00","alt":null,"width":800,"height":800,"src":"https:\/\/cdn.shopify.com\/s\/files\/1\/0467\/9080\/3610\/products\/8_ec05c2dc-b42c-4a71-bc02-25a8d05fb724.png?v=1626936192","variant_ids":[40404049494170,40404049526938,40404049559706,40404049592474,40404049625242,40404049658010]},"available":true,"name":"Elastic Braided Slippers - black \/ 35","public_title":"black \/ 35","options":["black","35"],"price":2999,"weight":0,"compare_at_price":0,"inventory_management":null,"barcode":null,"featured_media":{"alt":null,"id":22719124308122,"position":8,"preview_image":{"aspect_ratio":1.0,"height":800,"width":800,"src":"https:\/\/cdn.shopify.com\/s\/files\/1\/0467\/9080\/3610\/products\/8_ec05c2dc-b42c-4a71-bc02-25a8d05fb724.png?v=1626936192"}},"requires_selling_plan":false,"selling_plan_allocations":[]},{"id":40404049526938,"title":"black \/ 36","option1":"black","option2":"36","option3":null,"sku":"SH18979-C020-S063","requires_shipping":true,"taxable":false,"featured_image":{"id":30309218189466,"product_id":6894915322010,"position":8,"created_at":"2021-07-21T20:43:12-10:00","updated_at":"2021-07-21T20:43:12-10:00","alt":null,"width":800,"height":800,"src":"https:\/\/cdn.shopify.com\/s\/files\/1\/0467\/9080\/3610\/products\/8_ec05c2dc-b42c-4a71-bc02-25a8d05fb724.png?v=1626936192","variant_ids":[40404049494170,40404049526938,40404049559706,40404049592474,40404049625242,40404049658010]},"available":true,"name":"Elastic Braided Slippers - black \/ 36","public_title":"black \/ 36","options":["black","36"],"price":2999,"weight":0,"compare_at_price":0,"inventory_management":null,"barcode":null,"featured_media":{"alt":null,"id":22719124308122,"position":8,"preview_image":{"aspect_ratio":1.0,"height":800,"width":800,"src":"https:\/\/cdn.shopify.com\/s\/files\/1\/0467\/9080\/3610\/products\/8_ec05c2dc-b42c-4a71-bc02-25a8d05fb724.png?v=1626936192"}},"requires_selling_plan":false,"selling_plan_allocations":[]},{"id":40404049559706,"title":"black \/ 37","option1":"black","option2":"37","option3":null,"sku":"SH18979-C020-S064","requires_shipping":true,"taxable":false,"featured_image":{"id":30309218189466,"product_id":6894915322010,"position":8,"created_at":"2021-07-21T20:43:12-10:00","updated_at":"2021-07-21T20:43:12-10:00","alt":null,"width":800,"height":800,"src":"https:\/\/cdn.shopify.com\/s\/files\/1\/0467\/9080\/3610\/products\/8_ec05c2dc-b42c-4a71-bc02-25a8d05fb724.png?v=1626936192","variant_ids":[40404049494170,40404049526938,40404049559706,40404049592474,40404049625242,40404049658010]},"available":true,"name":"Elastic Braided Slippers - black \/ 37","public_title":"black \/ 37","options":["black","37"],"price":2999,"weight":0,"compare_at_price":0,"inventory_management":null,"barcode":null,"featured_media":{"alt":null,"id":22719124308122,"position":8,"preview_image":{"aspect_ratio":1.0,"height":800,"width":800,"src":"https:\/\/cdn.shopify.com\/s\/files\/1\/0467\/9080\/3610\/products\/8_ec05c2dc-b42c-4a71-bc02-25a8d05fb724.png?v=1626936192"}},"requires_selling_plan":false,"selling_plan_allocations":[]},{"id":40404049592474,"title":"black \/ 38","option1":"black","option2":"38","option3":null,"sku":"SH18979-C020-S065","requires_shipping":true,"taxable":false,"featured_image":{"id":30309218189466,"product_id":6894915322010,"position":8,"created_at":"2021-07-21T20:43:12-10:00","updated_at":"2021-07-21T20:43:12-10:00","alt":null,"width":800,"height":800,"src":"https:\/\/cdn.shopify.com\/s\/files\/1\/0467\/9080\/3610\/products\/8_ec05c2dc-b42c-4a71-bc02-25a8d05fb724.png?v=1626936192","variant_ids":[40404049494170,40404049526938,40404049559706,40404049592474,40404049625242,40404049658010]},"available":true,"name":"Elastic Braided Slippers - black \/ 38","public_title":"black \/ 38","options":["black","38"],"price":2999,"weight":0,"compare_at_price":0,"inventory_management":null,"barcode":null,"featured_media":{"alt":null,"id":22719124308122,"position":8,"preview_image":{"aspect_ratio":1.0,"height":800,"width":800,"src":"https:\/\/cdn.shopify.com\/s\/files\/1\/0467\/9080\/3610\/products\/8_ec05c2dc-b42c-4a71-bc02-25a8d05fb724.png?v=1626936192"}},"requires_selling_plan":false,"selling_plan_allocations":[]},{"id":40404049625242,"title":"black \/ 39","option1":"black","option2":"39","option3":null,"sku":"SH18979-C020-S066","requires_shipping":true,"taxable":false,"featured_image":{"id":30309218189466,"product_id":6894915322010,"position":8,"created_at":"2021-07-21T20:43:12-10:00","updated_at":"2021-07-21T20:43:12-10:00","alt":null,"width":800,"height":800,"src":"https:\/\/cdn.shopify.com\/s\/files\/1\/0467\/9080\/3610\/products\/8_ec05c2dc-b42c-4a71-bc02-25a8d05fb724.png?v=1626936192","variant_ids":[40404049494170,40404049526938,40404049559706,40404049592474,40404049625242,40404049658010]},"available":true,"name":"Elastic Braided Slippers - black \/ 39","public_title":"black \/ 39","options":["black","39"],"price":2999,"weight":0,"compare_at_price":0,"inventory_management":null,"barcode":null,"featured_media":{"alt":null,"id":22719124308122,"position":8,"preview_image":{"aspect_ratio":1.0,"height":800,"width":800,"src":"https:\/\/cdn.shopify.com\/s\/files\/1\/0467\/9080\/3610\/products\/8_ec05c2dc-b42c-4a71-bc02-25a8d05fb724.png?v=1626936192"}},"requires_selling_plan":false,"selling_plan_allocations":[]},{"id":40404049658010,"title":"black \/ 40","option1":"black","option2":"40","option3":null,"sku":"SH18979-C020-S067","requires_shipping":true,"taxable":false,"featured_image":{"id":30309218189466,"product_id":6894915322010,"position":8,"created_at":"2021-07-21T20:43:12-10:00","updated_at":"2021-07-21T20:43:12-10:00","alt":null,"width":800,"height":800,"src":"https:\/\/cdn.shopify.com\/s\/files\/1\/0467\/9080\/3610\/products\/8_ec05c2dc-b42c-4a71-bc02-25a8d05fb724.png?v=1626936192","variant_ids":[40404049494170,40404049526938,40404049559706,40404049592474,40404049625242,40404049658010]},"available":true,"name":"Elastic Braided Slippers - black \/ 40","public_title":"black \/ 40","options":["black","40"],"price":2999,"weight":0,"compare_at_price":0,"inventory_management":null,"barcode":null,"featured_media":{"alt":null,"id":22719124308122,"position":8,"preview_image":{"aspect_ratio":1.0,"height":800,"width":800,"src":"https:\/\/cdn.shopify.com\/s\/files\/1\/0467\/9080\/3610\/products\/8_ec05c2dc-b42c-4a71-bc02-25a8d05fb724.png?v=1626936192"}},"requires_selling_plan":false,"selling_plan_allocations":[]},{"id":40404049690778,"title":"white \/ 35","option1":"white","option2":"35","option3":null,"sku":"SH18979-C574-S062","requires_shipping":true,"taxable":false,"featured_image":{"id":30309218156698,"product_id":6894915322010,"position":7,"created_at":"2021-07-21T20:43:12-10:00","updated_at":"2021-07-21T20:43:12-10:00","alt":null,"width":800,"height":800,"src":"https:\/\/cdn.shopify.com\/s\/files\/1\/0467\/9080\/3610\/products\/7_a445930c-c9c7-4193-bcb1-a33f0cd13e85.png?v=1626936192","variant_ids":[40404049690778,40404049723546,40404049756314,40404049789082,40404049821850,40404049854618]},"available":true,"name":"Elastic Braided Slippers - white \/ 35","public_title":"white \/ 35","options":["white","35"],"price":2999,"weight":0,"compare_at_price":0,"inventory_management":null,"barcode":null,"featured_media":{"alt":null,"id":22719124275354,"position":7,"preview_image":{"aspect_ratio":1.0,"height":800,"width":800,"src":"https:\/\/cdn.shopify.com\/s\/files\/1\/0467\/9080\/3610\/products\/7_a445930c-c9c7-4193-bcb1-a33f0cd13e85.png?v=1626936192"}},"requires_selling_plan":false,"selling_plan_allocations":[]},{"id":40404049723546,"title":"white \/ 36","option1":"white","option2":"36","option3":null,"sku":"SH18979-C574-S063","requires_shipping":true,"taxable":false,"featured_image":{"id":30309218156698,"product_id":6894915322010,"position":7,"created_at":"2021-07-21T20:43:12-10:00","updated_at":"2021-07-21T20:43:12-10:00","alt":null,"width":800,"height":800,"src":"https:\/\/cdn.shopify.com\/s\/files\/1\/0467\/9080\/3610\/products\/7_a445930c-c9c7-4193-bcb1-a33f0cd13e85.png?v=1626936192","variant_ids":[40404049690778,40404049723546,40404049756314,40404049789082,40404049821850,40404049854618]},"available":true,"name":"Elastic Braided Slippers - white \/ 36","public_title":"white \/ 36","options":["white","36"],"price":2999,"weight":0,"compare_at_price":0,"inventory_management":null,"barcode":null,"featured_media":{"alt":null,"id":22719124275354,"position":7,"preview_image":{"aspect_ratio":1.0,"height":800,"width":800,"src":"https:\/\/cdn.shopify.com\/s\/files\/1\/0467\/9080\/3610\/products\/7_a445930c-c9c7-4193-bcb1-a33f0cd13e85.png?v=1626936192"}},"requires_selling_plan":false,"selling_plan_allocations":[]},{"id":40404049756314,"title":"white \/ 37","option1":"white","option2":"37","option3":null,"sku":"SH18979-C574-S064","requires_shipping":true,"taxable":false,"featured_image":{"id":30309218156698,"product_id":6894915322010,"position":7,"created_at":"2021-07-21T20:43:12-10:00","updated_at":"2021-07-21T20:43:12-10:00","alt":null,"width":800,"height":800,"src":"https:\/\/cdn.shopify.com\/s\/files\/1\/0467\/9080\/3610\/products\/7_a445930c-c9c7-4193-bcb1-a33f0cd13e85.png?v=1626936192","variant_ids":[40404049690778,40404049723546,40404049756314,40404049789082,40404049821850,40404049854618]},"available":true,"name":"Elastic Braided Slippers - white \/ 37","public_title":"white \/ 37","options":["white","37"],"price":2999,"weight":0,"compare_at_price":0,"inventory_management":null,"barcode":null,"featured_media":{"alt":null,"id":22719124275354,"position":7,"preview_image":{"aspect_ratio":1.0,"height":800,"width":800,"src":"https:\/\/cdn.shopify.com\/s\/files\/1\/0467\/9080\/3610\/products\/7_a445930c-c9c7-4193-bcb1-a33f0cd13e85.png?v=1626936192"}},"requires_selling_plan":false,"selling_plan_allocations":[]},{"id":40404049789082,"title":"white \/ 38","option1":"white","option2":"38","option3":null,"sku":"SH18979-C574-S065","requires_shipping":true,"taxable":false,"featured_image":{"id":30309218156698,"product_id":6894915322010,"position":7,"created_at":"2021-07-21T20:43:12-10:00","updated_at":"2021-07-21T20:43:12-10:00","alt":null,"width":800,"height":800,"src":"https:\/\/cdn.shopify.com\/s\/files\/1\/0467\/9080\/3610\/products\/7_a445930c-c9c7-4193-bcb1-a33f0cd13e85.png?v=1626936192","variant_ids":[40404049690778,40404049723546,40404049756314,40404049789082,40404049821850,40404049854618]},"available":true,"name":"Elastic Braided Slippers - white \/ 38","public_title":"white \/ 38","options":["white","38"],"price":2999,"weight":0,"compare_at_price":0,"inventory_management":null,"barcode":null,"featured_media":{"alt":null,"id":22719124275354,"position":7,"preview_image":{"aspect_ratio":1.0,"height":800,"width":800,"src":"https:\/\/cdn.shopify.com\/s\/files\/1\/0467\/9080\/3610\/products\/7_a445930c-c9c7-4193-bcb1-a33f0cd13e85.png?v=1626936192"}},"requires_selling_plan":false,"selling_plan_allocations":[]},{"id":40404049821850,"title":"white \/ 39","option1":"white","option2":"39","option3":null,"sku":"SH18979-C574-S066","requires_shipping":true,"taxable":false,"featured_image":{"id":30309218156698,"product_id":6894915322010,"position":7,"created_at":"2021-07-21T20:43:12-10:00","updated_at":"2021-07-21T20:43:12-10:00","alt":null,"width":800,"height":800,"src":"https:\/\/cdn.shopify.com\/s\/files\/1\/0467\/9080\/3610\/products\/7_a445930c-c9c7-4193-bcb1-a33f0cd13e85.png?v=1626936192","variant_ids":[40404049690778,40404049723546,40404049756314,40404049789082,40404049821850,40404049854618]},"available":true,"name":"Elastic Braided Slippers - white \/ 39","public_title":"white \/ 39","options":["white","39"],"price":2999,"weight":0,"compare_at_price":0,"inventory_management":null,"barcode":null,"featured_media":{"alt":null,"id":22719124275354,"position":7,"preview_image":{"aspect_ratio":1.0,"height":800,"width":800,"src":"https:\/\/cdn.shopify.com\/s\/files\/1\/0467\/9080\/3610\/products\/7_a445930c-c9c7-4193-bcb1-a33f0cd13e85.png?v=1626936192"}},"requires_selling_plan":false,"selling_plan_allocations":[]},{"id":40404049854618,"title":"white \/ 40","option1":"white","option2":"40","option3":null,"sku":"SH18979-C574-S067","requires_shipping":true,"taxable":false,"featured_image":{"id":30309218156698,"product_id":6894915322010,"position":7,"created_at":"2021-07-21T20:43:12-10:00","updated_at":"2021-07-21T20:43:12-10:00","alt":null,"width":800,"height":800,"src":"https:\/\/cdn.shopify.com\/s\/files\/1\/0467\/9080\/3610\/products\/7_a445930c-c9c7-4193-bcb1-a33f0cd13e85.png?v=1626936192","variant_ids":[40404049690778,40404049723546,40404049756314,40404049789082,40404049821850,40404049854618]},"available":true,"name":"Elastic Braided Slippers - white \/ 40","public_title":"white \/ 40","options":["white","40"],"price":2999,"weight":0,"compare_at_price":0,"inventory_management":null,"barcode":null,"featured_media":{"alt":null,"id":22719124275354,"position":7,"preview_image":{"aspect_ratio":1.0,"height":800,"width":800,"src":"https:\/\/cdn.shopify.com\/s\/files\/1\/0467\/9080\/3610\/products\/7_a445930c-c9c7-4193-bcb1-a33f0cd13e85.png?v=1626936192"}},"requires_selling_plan":false,"selling_plan_allocations":[]}],"images":["\/\/cdn.shopify.com\/s\/files\/1\/0467\/9080\/3610\/products\/1_cf142466-73e5-40f7-80ab-4678a1892f63.png?v=1626936192","\/\/cdn.shopify.com\/s\/files\/1\/0467\/9080\/3610\/products\/2_8b707be1-3071-4dba-9b07-fdcc082ff1dc.png?v=1626936192","\/\/cdn.shopify.com\/s\/files\/1\/0467\/9080\/3610\/products\/3_5591d550-9196-4f81-b723-b1fccf0ccb41.png?v=1626936192","\/\/cdn.shopify.com\/s\/files\/1\/0467\/9080\/3610\/products\/4_2cf60167-6c73-4cec-98a2-7206dd80073c.png?v=1626936192","\/\/cdn.shopify.com\/s\/files\/1\/0467\/9080\/3610\/products\/5_7a2764de-a4ac-42f5-8f14-0ae647f78c7f.png?v=1626936192","\/\/cdn.shopify.com\/s\/files\/1\/0467\/9080\/3610\/products\/6_df8e4da0-2242-41e8-92ab-f9ae9ea94432.png?v=1626936192","\/\/cdn.shopify.com\/s\/files\/1\/0467\/9080\/3610\/products\/7_a445930c-c9c7-4193-bcb1-a33f0cd13e85.png?v=1626936192","\/\/cdn.shopify.com\/s\/files\/1\/0467\/9080\/3610\/products\/8_ec05c2dc-b42c-4a71-bc02-25a8d05fb724.png?v=1626936192"],"featured_image":"\/\/cdn.shopify.com\/s\/files\/1\/0467\/9080\/3610\/products\/1_cf142466-73e5-40f7-80ab-4678a1892f63.png?v=1626936192","options":["Color","Size"],"media":[{"alt":null,"id":22719124078746,"position":1,"preview_image":{"aspect_ratio":1.0,"height":800,"width":800,"src":"https:\/\/cdn.shopify.com\/s\/files\/1\/0467\/9080\/3610\/products\/1_cf142466-73e5-40f7-80ab-4678a1892f63.png?v=1626936192"},"aspect_ratio":1.0,"height":800,"media_type":"image","src":"https:\/\/cdn.shopify.com\/s\/files\/1\/0467\/9080\/3610\/products\/1_cf142466-73e5-40f7-80ab-4678a1892f63.png?v=1626936192","width":800},{"alt":null,"id":22719124111514,"position":2,"preview_image":{"aspect_ratio":1.0,"height":800,"width":800,"src":"https:\/\/cdn.shopify.com\/s\/files\/1\/0467\/9080\/3610\/products\/2_8b707be1-3071-4dba-9b07-fdcc082ff1dc.png?v=1626936192"},"aspect_ratio":1.0,"height":800,"media_type":"image","src":"https:\/\/cdn.shopify.com\/s\/files\/1\/0467\/9080\/3610\/products\/2_8b707be1-3071-4dba-9b07-fdcc082ff1dc.png?v=1626936192","width":800},{"alt":null,"id":22719124144282,"position":3,"preview_image":{"aspect_ratio":1.0,"height":800,"width":800,"src":"https:\/\/cdn.shopify.com\/s\/files\/1\/0467\/9080\/3610\/products\/3_5591d550-9196-4f81-b723-b1fccf0ccb41.png?v=1626936192"},"aspect_ratio":1.0,"height":800,"media_type":"image","src":"https:\/\/cdn.shopify.com\/s\/files\/1\/0467\/9080\/3610\/products\/3_5591d550-9196-4f81-b723-b1fccf0ccb41.png?v=1626936192","width":800},{"alt":null,"id":22719124177050,"position":4,"preview_image":{"aspect_ratio":1.0,"height":800,"width":800,"src":"https:\/\/cdn.shopify.com\/s\/files\/1\/0467\/9080\/3610\/products\/4_2cf60167-6c73-4cec-98a2-7206dd80073c.png?v=1626936192"},"aspect_ratio":1.0,"height":800,"media_type":"image","src":"https:\/\/cdn.shopify.com\/s\/files\/1\/0467\/9080\/3610\/products\/4_2cf60167-6c73-4cec-98a2-7206dd80073c.png?v=1626936192","width":800},{"alt":null,"id":22719124209818,"position":5,"preview_image":{"aspect_ratio":1.0,"height":800,"width":800,"src":"https:\/\/cdn.shopify.com\/s\/files\/1\/0467\/9080\/3610\/products\/5_7a2764de-a4ac-42f5-8f14-0ae647f78c7f.png?v=1626936192"},"aspect_ratio":1.0,"height":800,"media_type":"image","src":"https:\/\/cdn.shopify.com\/s\/files\/1\/0467\/9080\/3610\/products\/5_7a2764de-a4ac-42f5-8f14-0ae647f78c7f.png?v=1626936192","width":800},{"alt":null,"id":22719124242586,"position":6,"preview_image":{"aspect_ratio":1.0,"height":800,"width":800,"src":"https:\/\/cdn.shopify.com\/s\/files\/1\/0467\/9080\/3610\/products\/6_df8e4da0-2242-41e8-92ab-f9ae9ea94432.png?v=1626936192"},"aspect_ratio":1.0,"height":800,"media_type":"image","src":"https:\/\/cdn.shopify.com\/s\/files\/1\/0467\/9080\/3610\/products\/6_df8e4da0-2242-41e8-92ab-f9ae9ea94432.png?v=1626936192","width":800},{"alt":null,"id":22719124275354,"position":7,"preview_image":{"aspect_ratio":1.0,"height":800,"width":800,"src":"https:\/\/cdn.shopify.com\/s\/files\/1\/0467\/9080\/3610\/products\/7_a445930c-c9c7-4193-bcb1-a33f0cd13e85.png?v=1626936192"},"aspect_ratio":1.0,"height":800,"media_type":"image","src":"https:\/\/cdn.shopify.com\/s\/files\/1\/0467\/9080\/3610\/products\/7_a445930c-c9c7-4193-bcb1-a33f0cd13e85.png?v=1626936192","width":800},{"alt":null,"id":22719124308122,"position":8,"preview_image":{"aspect_ratio":1.0,"height":800,"width":800,"src":"https:\/\/cdn.shopify.com\/s\/files\/1\/0467\/9080\/3610\/products\/8_ec05c2dc-b42c-4a71-bc02-25a8d05fb724.png?v=1626936192"},"aspect_ratio":1.0,"height":800,"media_type":"image","src":"https:\/\/cdn.shopify.com\/s\/files\/1\/0467\/9080\/3610\/products\/8_ec05c2dc-b42c-4a71-bc02-25a8d05fb724.png?v=1626936192","width":800}],"requires_selling_plan":false,"selling_plan_groups":[],"content":"\u003cp data-mce-fragment=\"1\"\u003e\u003cspan style=\"color: #ff2a00;\"\u003e\u003cstrong\u003eFEATURES\u003c\/strong\u003e\u003c\/span\u003e\u003c\/p\u003e\n\u003cul\u003e\n\u003cli\u003e\u003cstrong data-mce-fragment=\"1\"\u003e\u003cspan data-mce-fragment=\"1\"\u003eHigh-quality Soft Fabric\u003c\/span\u003e\u003c\/strong\u003e\u003c\/li\u003e\n\u003c\/ul\u003e\n\u003cp style=\"padding-left: 30px;\" data-mce-fragment=\"1\"\u003eThe high-quality upper, moisture-wicking, breathable, prevents overheating and odor, and the sole is light and non-slip, ensuring a comfortable and safe wearing experience.\u003c\/p\u003e\n\u003cul\u003e\n\u003cli\u003e\u003cstrong data-mce-fragment=\"1\"\u003e\u003cspan data-mce-fragment=\"1\"\u003eAnti-collision Toe Cap\u003c\/span\u003e\u003c\/strong\u003e\u003c\/li\u003e\n\u003c\/ul\u003e\n\u003cp style=\"padding-left: 30px;\" data-mce-fragment=\"1\"\u003eThe personalized toe cap design is made of comfortable materials, showing meticulous workmanship.\u003c\/p\u003e\n\u003cul\u003e\n\u003cli\u003e\u003cstrong data-mce-fragment=\"1\"\u003e\u003cspan data-mce-fragment=\"1\"\u003eWear-resistant Sole\u003c\/span\u003e\u003c\/strong\u003e\u003c\/li\u003e\n\u003c\/ul\u003e\n\u003cp style=\"padding-left: 30px;\" data-mce-fragment=\"1\"\u003eThe well-designed non-slip base, lightweight material, increases friction and makes walking more comfortable.\u003c\/p\u003e\n\u003cul\u003e\n\u003cli\u003e\u003cstrong data-mce-fragment=\"1\"\u003e\u003cspan data-mce-fragment=\"1\"\u003eHuman Physiology Design\u003c\/span\u003e\u003c\/strong\u003e\u003c\/li\u003e\n\u003c\/ul\u003e\n\u003cp style=\"padding-left: 30px;\" data-mce-fragment=\"1\"\u003eAccording to the human physiology design, the whole pair of shoes are beautiful and comfortable. Fashionable footbed design, soft and skin-friendly, comfortable, and does no footwear, care for your feet.\u003c\/p\u003e\n\u003cp\u003e\u003cspan style=\"color: #ff2a00;\"\u003e\u003cstrong\u003eSIZE TABLE\u003c\/strong\u003e\u003c\/span\u003e\u003c\/p\u003e\n\u003cp\u003e\u003cimg src=\"https:\/\/cdn.shopifycdn.net\/s\/files\/1\/0356\/3048\/1544\/files\/c03aa05e7e87f81ee2ee57782e55ad5e_480x480.png?v=1626934223\" alt=\"\" style=\"display: block; margin-left: auto; margin-right: auto;\" data-mce-fragment=\"1\" data-mce-src=\"https:\/\/cdn.shopifycdn.net\/s\/files\/1\/0356\/3048\/1544\/files\/c03aa05e7e87f81ee2ee57782e55ad5e_480x480.png?v=1626934223\"\u003e\u003c\/p\u003e\n\u003cp\u003e\u003cspan style=\"color: #ff2a00;\"\u003e\u003cstrong\u003eSPECIFICATIONS\u003c\/strong\u003e\u003c\/span\u003e\u003c\/p\u003e\n\u003cul\u003e\n\u003cli\u003e\n\u003cstrong\u003eMaterial:\u003c\/strong\u003e PU upper\u003c\/li\u003e\n\u003cli\u003e\n\u003cstrong\u003eSize:\u003c\/strong\u003e 35-40\u003c\/li\u003e\n\u003cli\u003e\n\u003cstrong\u003eColor:\u003c\/strong\u003e yellow\/green\/black\/white\u003c\/li\u003e\n\u003cli\u003e\n\u003cstrong\u003ePackage:\u003c\/strong\u003e 1 pair of Elastic Braided Slippers\u003c\/li\u003e\n\u003c\/ul\u003e\n\u003cp\u003e\u003cspan style=\"color: #ff2a00;\"\u003e\u003cstrong\u003eNOTE\u003c\/strong\u003e\u003c\/span\u003e\u003c\/p\u003e\n\u003cp\u003ePlease allow slight measurement deviations due to manual measurement.\u003c\/p\u003e\n\u003cp\u003eDue to the different monitor and light effect, the actual color of the item might be slightly different from the color showed in the pictures.\u003c\/p\u003e"}
Adding product to your cart
FEATURES
The high-quality upper, moisture-wicking, breathable, prevents overheating and odor, and the sole is light and non-slip, ensuring a comfortable and safe wearing experience.
The personalized toe cap design is made of comfortable materials, showing meticulous workmanship.
The well-designed non-slip base, lightweight material, increases friction and makes walking more comfortable.
According to the human physiology design, the whole pair of shoes are beautiful and comfortable. Fashionable footbed design, soft and skin-friendly, comfortable, and does no footwear, care for your feet.
SIZE TABLE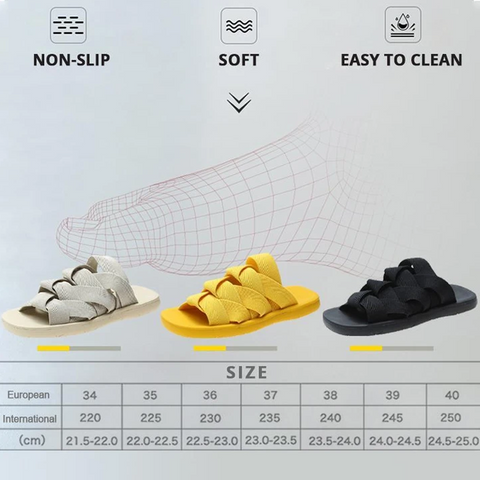 SPECIFICATIONS
Material: PU upper
Size: 35-40
Color: yellow/green/black/white
Package: 1 pair of Elastic Braided Slippers
NOTE
Please allow slight measurement deviations due to manual measurement.
Due to the different monitor and light effect, the actual color of the item might be slightly different from the color showed in the pictures.