{"id":6951319077018,"title":"ICE SILK PLUS SIZE BRA","handle":"ice-silk-plus-size-bra","description":"\u003cp data-mce-fragment=\"1\"\u003e\u003cspan style=\"color: #ff2a00;\"\u003e\u003cstrong data-mce-fragment=\"1\"\u003eFEATURES\u003c\/strong\u003e\u003c\/span\u003e\u003c\/p\u003e\n\u003cul\u003e\n\u003cli\u003e\n\u003cp\u003e\u003cstrong\u003eICE SILK COOLING MATERIAL:\u003c\/strong\u003e Provides heat and moisture management through ventilation.\u003c\/p\u003e\n\u003c\/li\u003e\n\u003cli\u003e\n\u003cp\u003e\u003cstrong\u003eLIFT\u003c\/strong\u003e \u003cstrong\u003e\u0026amp;\u003c\/strong\u003e \u003cstrong\u003eSUPPORTS BREAST:\u003c\/strong\u003e a wireless design bra and natural pads that provide cozily and firmer support.\u003c\/p\u003e\n\u003c\/li\u003e\n\u003cli\u003e\n\u003cp\u003e\u003cstrong\u003eCOMFORTABLE\u003c\/strong\u003e \u003cstrong\u003e\u0026amp;\u003c\/strong\u003e \u003cstrong\u003eWIRELESS:\u003c\/strong\u003e Prevents wrinkled skin, pain, and discomfort.\u003c\/p\u003e\n\u003c\/li\u003e\n\u003cli\u003e\n\u003cp\u003e\u003cstrong\u003eMOIST-WICKING \u0026amp;\u003c\/strong\u003e \u003cstrong\u003eSWEATPROOF:\u003c\/strong\u003e making it safe to skin and prevent rashes and skin irritations caused by heat \u0026amp; sweat.\u003c\/p\u003e\n\u003c\/li\u003e\n\u003cli\u003e\n\u003cp\u003e\u003cstrong\u003eSTRETCHABLE \u0026amp;\u003c\/strong\u003e \u003cstrong\u003eBREATHABLE:\u003c\/strong\u003e made of high-quality nylon and spandex material making it super stretchable, seamless, and breathable to use.\u003c\/p\u003e\n\u003c\/li\u003e\n\u003cli\u003e\n\u003cp\u003e\u003cstrong\u003eFULL SMOOTH DESIGN:\u003c\/strong\u003e Smoothtec design virtually invisible under clothes.\u003c\/p\u003e\n\u003c\/li\u003e\n\u003c\/ul\u003e\n\u003cp data-mce-fragment=\"1\"\u003e\u003cstrong data-mce-fragment=\"1\"\u003e\u003cimg style=\"display: block; margin-left: auto; margin-right: auto;\" src=\"https:\/\/img.staticdj.com\/86d5d7dc03f495b12e8739389fa5e895.gif\"\u003e\u003c\/strong\u003e\u003c\/p\u003e\n\u003cp\u003e\u003cspan style=\"color: #ff2a00;\"\u003e\u003cstrong\u003eSIZE TABLE\u003c\/strong\u003e\u003c\/span\u003e\u003c\/p\u003e\n\u003cp\u003e\u003cstrong\u003e\u003cimg alt=\"\" src=\"https:\/\/cdn.shopifycdn.net\/s\/files\/1\/0356\/3048\/1544\/files\/CM_27e26eb2-a153-4ce3-8a2f-4b09ed255404_480x480.jpg?v=1628755119\" style=\"display: block; margin-left: auto; margin-right: auto;\"\u003e\u003c\/strong\u003e\u003c\/p\u003e\n\u003cp data-mce-fragment=\"1\"\u003e\u003cspan style=\"color: #ff2a00;\"\u003e\u003cstrong data-mce-fragment=\"1\"\u003eSPECIFICATIONS\u003c\/strong\u003e\u003c\/span\u003e\u003c\/p\u003e\n\u003cul class=\"default\"\u003e\n\u003cli class=\"default\"\u003e\n\u003cp\u003e\u003cstrong\u003eFabric:\u003c\/strong\u003e Nyon, Spandex\u003c\/p\u003e\n\u003c\/li\u003e\n\u003cli class=\"default\"\u003e\n\u003cp\u003e\u003cstrong\u003eCup Type:\u003c\/strong\u003e Thin Mold Cup\u003c\/p\u003e\n\u003c\/li\u003e\n\u003cli class=\"default\"\u003e\n\u003cp\u003e\u003cstrong\u003eSize:\u003c\/strong\u003e M, L, XL, 2XL, 3XL, 4XL, 5XL, 6XL, 7XL\u003c\/p\u003e\n\u003c\/li\u003e\n\u003cli class=\"default\"\u003e\n\u003cp\u003e\u003cstrong\u003eColor:\u003c\/strong\u003e black, gray, blue, beige\u003c\/p\u003e\n\u003c\/li\u003e\n\u003cli class=\"default\"\u003e\n\u003cp\u003e\u003cstrong\u003ePackage:\u003c\/strong\u003e 1 * ICE SILK PLUS SIZE BRA\u003c\/p\u003e\n\u003c\/li\u003e\n\u003c\/ul\u003e\n\u003cp data-mce-fragment=\"1\"\u003e\u003cspan style=\"color: #ff2a00;\"\u003e\u003cstrong data-mce-fragment=\"1\"\u003eNOTE\u003c\/strong\u003e\u003c\/span\u003e\u003c\/p\u003e\n\u003cp data-mce-fragment=\"1\"\u003ePlease allow slight measurement deviations due to manual measurement.\u003c\/p\u003e\n\u003cp data-mce-fragment=\"1\"\u003eDue to the different monitor and light effect, the actual color of the item might be slightly different from the color showed in the pictures.\u003c\/p\u003e","published_at":"2021-08-11T22:23:12-10:00","created_at":"2021-08-11T22:23:18-10:00","vendor":"Yochoos","type":"Underwear","tags":["underwear"],"price":1499,"price_min":1499,"price_max":1499,"available":true,"price_varies":false,"compare_at_price":0,"compare_at_price_min":0,"compare_at_price_max":0,"compare_at_price_varies":false,"variants":[{"id":40610793324698,"title":"blue \/ M","option1":"blue","option2":"M","option3":null,"sku":"UN19603-C027-S046","requires_shipping":true,"taxable":false,"featured_image":null,"available":true,"name":"ICE SILK PLUS SIZE BRA - blue \/ M","public_title":"blue \/ M","options":["blue","M"],"price":1499,"weight":0,"compare_at_price":0,"inventory_management":null,"barcode":null,"requires_selling_plan":false,"selling_plan_allocations":[]},{"id":40610793357466,"title":"blue \/ L","option1":"blue","option2":"L","option3":null,"sku":"UN19603-C027-S047","requires_shipping":true,"taxable":false,"featured_image":null,"available":true,"name":"ICE SILK PLUS SIZE BRA - blue \/ L","public_title":"blue \/ L","options":["blue","L"],"price":1499,"weight":0,"compare_at_price":0,"inventory_management":null,"barcode":null,"requires_selling_plan":false,"selling_plan_allocations":[]},{"id":40610793390234,"title":"blue \/ XL","option1":"blue","option2":"XL","option3":null,"sku":"UN19603-C027-S048","requires_shipping":true,"taxable":false,"featured_image":null,"available":true,"name":"ICE SILK PLUS SIZE BRA - blue \/ XL","public_title":"blue \/ XL","options":["blue","XL"],"price":1499,"weight":0,"compare_at_price":0,"inventory_management":null,"barcode":null,"requires_selling_plan":false,"selling_plan_allocations":[]},{"id":40610793423002,"title":"blue \/ 2XL","option1":"blue","option2":"2XL","option3":null,"sku":"UN19603-C027-S049","requires_shipping":true,"taxable":false,"featured_image":null,"available":true,"name":"ICE SILK PLUS SIZE BRA - blue \/ 2XL","public_title":"blue \/ 2XL","options":["blue","2XL"],"price":1499,"weight":0,"compare_at_price":0,"inventory_management":null,"barcode":null,"requires_selling_plan":false,"selling_plan_allocations":[]},{"id":40610793455770,"title":"blue \/ 3XL","option1":"blue","option2":"3XL","option3":null,"sku":"UN19603-C027-S050","requires_shipping":true,"taxable":false,"featured_image":null,"available":true,"name":"ICE SILK PLUS SIZE BRA - blue \/ 3XL","public_title":"blue \/ 3XL","options":["blue","3XL"],"price":1499,"weight":0,"compare_at_price":0,"inventory_management":null,"barcode":null,"requires_selling_plan":false,"selling_plan_allocations":[]},{"id":40610793488538,"title":"blue \/ 4XL","option1":"blue","option2":"4XL","option3":null,"sku":"UN19603-C027-S051","requires_shipping":true,"taxable":false,"featured_image":null,"available":true,"name":"ICE SILK PLUS SIZE BRA - blue \/ 4XL","public_title":"blue \/ 4XL","options":["blue","4XL"],"price":1499,"weight":0,"compare_at_price":0,"inventory_management":null,"barcode":null,"requires_selling_plan":false,"selling_plan_allocations":[]},{"id":40610793521306,"title":"blue \/ 5XL","option1":"blue","option2":"5XL","option3":null,"sku":"UN19603-C027-S052","requires_shipping":true,"taxable":false,"featured_image":null,"available":true,"name":"ICE SILK PLUS SIZE BRA - blue \/ 5XL","public_title":"blue \/ 5XL","options":["blue","5XL"],"price":1499,"weight":0,"compare_at_price":0,"inventory_management":null,"barcode":null,"requires_selling_plan":false,"selling_plan_allocations":[]},{"id":40610793554074,"title":"blue \/ 6XL","option1":"blue","option2":"6XL","option3":null,"sku":"UN19603-C027-S095","requires_shipping":true,"taxable":false,"featured_image":null,"available":true,"name":"ICE SILK PLUS SIZE BRA - blue \/ 6XL","public_title":"blue \/ 6XL","options":["blue","6XL"],"price":1499,"weight":0,"compare_at_price":0,"inventory_management":null,"barcode":null,"requires_selling_plan":false,"selling_plan_allocations":[]},{"id":40610793619610,"title":"blue \/ 7XL","option1":"blue","option2":"7XL","option3":null,"sku":"UN19603-C027-S5074","requires_shipping":true,"taxable":false,"featured_image":null,"available":true,"name":"ICE SILK PLUS SIZE BRA - blue \/ 7XL","public_title":"blue \/ 7XL","options":["blue","7XL"],"price":1499,"weight":0,"compare_at_price":0,"inventory_management":null,"barcode":null,"requires_selling_plan":false,"selling_plan_allocations":[]},{"id":40610793685146,"title":"black \/ M","option1":"black","option2":"M","option3":null,"sku":"UN19603-C020-S046","requires_shipping":true,"taxable":false,"featured_image":null,"available":true,"name":"ICE SILK PLUS SIZE BRA - black \/ M","public_title":"black \/ M","options":["black","M"],"price":1499,"weight":0,"compare_at_price":0,"inventory_management":null,"barcode":null,"requires_selling_plan":false,"selling_plan_allocations":[]},{"id":40610793750682,"title":"black \/ L","option1":"black","option2":"L","option3":null,"sku":"UN19603-C020-S047","requires_shipping":true,"taxable":false,"featured_image":null,"available":true,"name":"ICE SILK PLUS SIZE BRA - black \/ L","public_title":"black \/ L","options":["black","L"],"price":1499,"weight":0,"compare_at_price":0,"inventory_management":null,"barcode":null,"requires_selling_plan":false,"selling_plan_allocations":[]},{"id":40610793783450,"title":"black \/ XL","option1":"black","option2":"XL","option3":null,"sku":"UN19603-C020-S048","requires_shipping":true,"taxable":false,"featured_image":null,"available":true,"name":"ICE SILK PLUS SIZE BRA - black \/ XL","public_title":"black \/ XL","options":["black","XL"],"price":1499,"weight":0,"compare_at_price":0,"inventory_management":null,"barcode":null,"requires_selling_plan":false,"selling_plan_allocations":[]},{"id":40610793881754,"title":"black \/ 2XL","option1":"black","option2":"2XL","option3":null,"sku":"UN19603-C020-S049","requires_shipping":true,"taxable":false,"featured_image":null,"available":true,"name":"ICE SILK PLUS SIZE BRA - black \/ 2XL","public_title":"black \/ 2XL","options":["black","2XL"],"price":1499,"weight":0,"compare_at_price":0,"inventory_management":null,"barcode":null,"requires_selling_plan":false,"selling_plan_allocations":[]},{"id":40610793947290,"title":"black \/ 3XL","option1":"black","option2":"3XL","option3":null,"sku":"UN19603-C020-S050","requires_shipping":true,"taxable":false,"featured_image":null,"available":true,"name":"ICE SILK PLUS SIZE BRA - black \/ 3XL","public_title":"black \/ 3XL","options":["black","3XL"],"price":1499,"weight":0,"compare_at_price":0,"inventory_management":null,"barcode":null,"requires_selling_plan":false,"selling_plan_allocations":[]},{"id":40610794078362,"title":"black \/ 4XL","option1":"black","option2":"4XL","option3":null,"sku":"UN19603-C020-S051","requires_shipping":true,"taxable":false,"featured_image":null,"available":true,"name":"ICE SILK PLUS SIZE BRA - black \/ 4XL","public_title":"black \/ 4XL","options":["black","4XL"],"price":1499,"weight":0,"compare_at_price":0,"inventory_management":null,"barcode":null,"requires_selling_plan":false,"selling_plan_allocations":[]},{"id":40610794143898,"title":"black \/ 5XL","option1":"black","option2":"5XL","option3":null,"sku":"UN19603-C020-S052","requires_shipping":true,"taxable":false,"featured_image":null,"available":true,"name":"ICE SILK PLUS SIZE BRA - black \/ 5XL","public_title":"black \/ 5XL","options":["black","5XL"],"price":1499,"weight":0,"compare_at_price":0,"inventory_management":null,"barcode":null,"requires_selling_plan":false,"selling_plan_allocations":[]},{"id":40610794209434,"title":"black \/ 6XL","option1":"black","option2":"6XL","option3":null,"sku":"UN19603-C020-S095","requires_shipping":true,"taxable":false,"featured_image":null,"available":true,"name":"ICE SILK PLUS SIZE BRA - black \/ 6XL","public_title":"black \/ 6XL","options":["black","6XL"],"price":1499,"weight":0,"compare_at_price":0,"inventory_management":null,"barcode":null,"requires_selling_plan":false,"selling_plan_allocations":[]},{"id":40610794274970,"title":"black \/ 7XL","option1":"black","option2":"7XL","option3":null,"sku":"UN19603-C020-S5074","requires_shipping":true,"taxable":false,"featured_image":null,"available":true,"name":"ICE SILK PLUS SIZE BRA - black \/ 7XL","public_title":"black \/ 7XL","options":["black","7XL"],"price":1499,"weight":0,"compare_at_price":0,"inventory_management":null,"barcode":null,"requires_selling_plan":false,"selling_plan_allocations":[]},{"id":40610794307738,"title":"beige \/ M","option1":"beige","option2":"M","option3":null,"sku":"UN19603-C2244-S046","requires_shipping":true,"taxable":false,"featured_image":null,"available":true,"name":"ICE SILK PLUS SIZE BRA - beige \/ M","public_title":"beige \/ M","options":["beige","M"],"price":1499,"weight":0,"compare_at_price":0,"inventory_management":null,"barcode":null,"requires_selling_plan":false,"selling_plan_allocations":[]},{"id":40610794340506,"title":"beige \/ L","option1":"beige","option2":"L","option3":null,"sku":"UN19603-C2244-S047","requires_shipping":true,"taxable":false,"featured_image":null,"available":true,"name":"ICE SILK PLUS SIZE BRA - beige \/ L","public_title":"beige \/ L","options":["beige","L"],"price":1499,"weight":0,"compare_at_price":0,"inventory_management":null,"barcode":null,"requires_selling_plan":false,"selling_plan_allocations":[]},{"id":40610794373274,"title":"beige \/ XL","option1":"beige","option2":"XL","option3":null,"sku":"UN19603-C2244-S048","requires_shipping":true,"taxable":false,"featured_image":null,"available":true,"name":"ICE SILK PLUS SIZE BRA - beige \/ XL","public_title":"beige \/ XL","options":["beige","XL"],"price":1499,"weight":0,"compare_at_price":0,"inventory_management":null,"barcode":null,"requires_selling_plan":false,"selling_plan_allocations":[]},{"id":40610794406042,"title":"beige \/ 2XL","option1":"beige","option2":"2XL","option3":null,"sku":"UN19603-C2244-S049","requires_shipping":true,"taxable":false,"featured_image":null,"available":true,"name":"ICE SILK PLUS SIZE BRA - beige \/ 2XL","public_title":"beige \/ 2XL","options":["beige","2XL"],"price":1499,"weight":0,"compare_at_price":0,"inventory_management":null,"barcode":null,"requires_selling_plan":false,"selling_plan_allocations":[]},{"id":40610794438810,"title":"beige \/ 3XL","option1":"beige","option2":"3XL","option3":null,"sku":"UN19603-C2244-S050","requires_shipping":true,"taxable":false,"featured_image":null,"available":true,"name":"ICE SILK PLUS SIZE BRA - beige \/ 3XL","public_title":"beige \/ 3XL","options":["beige","3XL"],"price":1499,"weight":0,"compare_at_price":0,"inventory_management":null,"barcode":null,"requires_selling_plan":false,"selling_plan_allocations":[]},{"id":40610794471578,"title":"beige \/ 4XL","option1":"beige","option2":"4XL","option3":null,"sku":"UN19603-C2244-S051","requires_shipping":true,"taxable":false,"featured_image":null,"available":true,"name":"ICE SILK PLUS SIZE BRA - beige \/ 4XL","public_title":"beige \/ 4XL","options":["beige","4XL"],"price":1499,"weight":0,"compare_at_price":0,"inventory_management":null,"barcode":null,"requires_selling_plan":false,"selling_plan_allocations":[]},{"id":40610794504346,"title":"beige \/ 5XL","option1":"beige","option2":"5XL","option3":null,"sku":"UN19603-C2244-S052","requires_shipping":true,"taxable":false,"featured_image":null,"available":true,"name":"ICE SILK PLUS SIZE BRA - beige \/ 5XL","public_title":"beige \/ 5XL","options":["beige","5XL"],"price":1499,"weight":0,"compare_at_price":0,"inventory_management":null,"barcode":null,"requires_selling_plan":false,"selling_plan_allocations":[]},{"id":40610794537114,"title":"beige \/ 6XL","option1":"beige","option2":"6XL","option3":null,"sku":"UN19603-C2244-S095","requires_shipping":true,"taxable":false,"featured_image":null,"available":true,"name":"ICE SILK PLUS SIZE BRA - beige \/ 6XL","public_title":"beige \/ 6XL","options":["beige","6XL"],"price":1499,"weight":0,"compare_at_price":0,"inventory_management":null,"barcode":null,"requires_selling_plan":false,"selling_plan_allocations":[]},{"id":40610794569882,"title":"beige \/ 7XL","option1":"beige","option2":"7XL","option3":null,"sku":"UN19603-C2244-S5074","requires_shipping":true,"taxable":false,"featured_image":null,"available":true,"name":"ICE SILK PLUS SIZE BRA - beige \/ 7XL","public_title":"beige \/ 7XL","options":["beige","7XL"],"price":1499,"weight":0,"compare_at_price":0,"inventory_management":null,"barcode":null,"requires_selling_plan":false,"selling_plan_allocations":[]},{"id":40610794602650,"title":"gray \/ M","option1":"gray","option2":"M","option3":null,"sku":"UN19603-C2851-S046","requires_shipping":true,"taxable":false,"featured_image":null,"available":true,"name":"ICE SILK PLUS SIZE BRA - gray \/ M","public_title":"gray \/ M","options":["gray","M"],"price":1499,"weight":0,"compare_at_price":0,"inventory_management":null,"barcode":null,"requires_selling_plan":false,"selling_plan_allocations":[]},{"id":40610794635418,"title":"gray \/ L","option1":"gray","option2":"L","option3":null,"sku":"UN19603-C2851-S047","requires_shipping":true,"taxable":false,"featured_image":null,"available":true,"name":"ICE SILK PLUS SIZE BRA - gray \/ L","public_title":"gray \/ L","options":["gray","L"],"price":1499,"weight":0,"compare_at_price":0,"inventory_management":null,"barcode":null,"requires_selling_plan":false,"selling_plan_allocations":[]},{"id":40610794668186,"title":"gray \/ XL","option1":"gray","option2":"XL","option3":null,"sku":"UN19603-C2851-S048","requires_shipping":true,"taxable":false,"featured_image":null,"available":true,"name":"ICE SILK PLUS SIZE BRA - gray \/ XL","public_title":"gray \/ XL","options":["gray","XL"],"price":1499,"weight":0,"compare_at_price":0,"inventory_management":null,"barcode":null,"requires_selling_plan":false,"selling_plan_allocations":[]},{"id":40610794700954,"title":"gray \/ 2XL","option1":"gray","option2":"2XL","option3":null,"sku":"UN19603-C2851-S049","requires_shipping":true,"taxable":false,"featured_image":null,"available":true,"name":"ICE SILK PLUS SIZE BRA - gray \/ 2XL","public_title":"gray \/ 2XL","options":["gray","2XL"],"price":1499,"weight":0,"compare_at_price":0,"inventory_management":null,"barcode":null,"requires_selling_plan":false,"selling_plan_allocations":[]},{"id":40610794733722,"title":"gray \/ 3XL","option1":"gray","option2":"3XL","option3":null,"sku":"UN19603-C2851-S050","requires_shipping":true,"taxable":false,"featured_image":null,"available":true,"name":"ICE SILK PLUS SIZE BRA - gray \/ 3XL","public_title":"gray \/ 3XL","options":["gray","3XL"],"price":1499,"weight":0,"compare_at_price":0,"inventory_management":null,"barcode":null,"requires_selling_plan":false,"selling_plan_allocations":[]},{"id":40610794766490,"title":"gray \/ 4XL","option1":"gray","option2":"4XL","option3":null,"sku":"UN19603-C2851-S051","requires_shipping":true,"taxable":false,"featured_image":null,"available":true,"name":"ICE SILK PLUS SIZE BRA - gray \/ 4XL","public_title":"gray \/ 4XL","options":["gray","4XL"],"price":1499,"weight":0,"compare_at_price":0,"inventory_management":null,"barcode":null,"requires_selling_plan":false,"selling_plan_allocations":[]},{"id":40610794799258,"title":"gray \/ 5XL","option1":"gray","option2":"5XL","option3":null,"sku":"UN19603-C2851-S052","requires_shipping":true,"taxable":false,"featured_image":null,"available":true,"name":"ICE SILK PLUS SIZE BRA - gray \/ 5XL","public_title":"gray \/ 5XL","options":["gray","5XL"],"price":1499,"weight":0,"compare_at_price":0,"inventory_management":null,"barcode":null,"requires_selling_plan":false,"selling_plan_allocations":[]},{"id":40610794832026,"title":"gray \/ 6XL","option1":"gray","option2":"6XL","option3":null,"sku":"UN19603-C2851-S095","requires_shipping":true,"taxable":false,"featured_image":null,"available":true,"name":"ICE SILK PLUS SIZE BRA - gray \/ 6XL","public_title":"gray \/ 6XL","options":["gray","6XL"],"price":1499,"weight":0,"compare_at_price":0,"inventory_management":null,"barcode":null,"requires_selling_plan":false,"selling_plan_allocations":[]},{"id":40610794864794,"title":"gray \/ 7XL","option1":"gray","option2":"7XL","option3":null,"sku":"UN19603-C2851-S5074","requires_shipping":true,"taxable":false,"featured_image":null,"available":true,"name":"ICE SILK PLUS SIZE BRA - gray \/ 7XL","public_title":"gray \/ 7XL","options":["gray","7XL"],"price":1499,"weight":0,"compare_at_price":0,"inventory_management":null,"barcode":null,"requires_selling_plan":false,"selling_plan_allocations":[]}],"images":["\/\/cdn.shopify.com\/s\/files\/1\/0467\/9080\/3610\/products\/2_6c049047-0250-4dc5-9e9b-5097a0e75689.jpg?v=1628756599","\/\/cdn.shopify.com\/s\/files\/1\/0467\/9080\/3610\/products\/5_8909fe50-70ca-4562-bf44-398f7b49f484.jpg?v=1628756599","\/\/cdn.shopify.com\/s\/files\/1\/0467\/9080\/3610\/products\/8_9a642f54-5941-483c-addc-f43ac4fbfa12.jpg?v=1628756599","\/\/cdn.shopify.com\/s\/files\/1\/0467\/9080\/3610\/products\/4_eab61ed4-ead9-4468-8e7e-dda2b79dfede.jpg?v=1628756599","\/\/cdn.shopify.com\/s\/files\/1\/0467\/9080\/3610\/products\/1_3eb5c3e2-a05b-4fd8-84d7-879d9f19feb1.jpg?v=1628756599","\/\/cdn.shopify.com\/s\/files\/1\/0467\/9080\/3610\/products\/3_82755dba-46ef-4443-9818-dab9cbf3fda5.jpg?v=1628756599","\/\/cdn.shopify.com\/s\/files\/1\/0467\/9080\/3610\/products\/6_805376e8-6fdc-4d69-ae88-3c8e7500c49d.jpg?v=1628756599","\/\/cdn.shopify.com\/s\/files\/1\/0467\/9080\/3610\/products\/7_867c09f2-763f-4215-9b4b-1522bbf80909.jpg?v=1628756599"],"featured_image":"\/\/cdn.shopify.com\/s\/files\/1\/0467\/9080\/3610\/products\/2_6c049047-0250-4dc5-9e9b-5097a0e75689.jpg?v=1628756599","options":["Color","Size"],"media":[{"alt":null,"id":23143743324314,"position":1,"preview_image":{"aspect_ratio":1.0,"height":800,"width":800,"src":"https:\/\/cdn.shopify.com\/s\/files\/1\/0467\/9080\/3610\/products\/2_6c049047-0250-4dc5-9e9b-5097a0e75689.jpg?v=1628756599"},"aspect_ratio":1.0,"height":800,"media_type":"image","src":"https:\/\/cdn.shopify.com\/s\/files\/1\/0467\/9080\/3610\/products\/2_6c049047-0250-4dc5-9e9b-5097a0e75689.jpg?v=1628756599","width":800},{"alt":null,"id":23143743357082,"position":2,"preview_image":{"aspect_ratio":1.0,"height":800,"width":800,"src":"https:\/\/cdn.shopify.com\/s\/files\/1\/0467\/9080\/3610\/products\/5_8909fe50-70ca-4562-bf44-398f7b49f484.jpg?v=1628756599"},"aspect_ratio":1.0,"height":800,"media_type":"image","src":"https:\/\/cdn.shopify.com\/s\/files\/1\/0467\/9080\/3610\/products\/5_8909fe50-70ca-4562-bf44-398f7b49f484.jpg?v=1628756599","width":800},{"alt":null,"id":23143743389850,"position":3,"preview_image":{"aspect_ratio":1.0,"height":800,"width":800,"src":"https:\/\/cdn.shopify.com\/s\/files\/1\/0467\/9080\/3610\/products\/8_9a642f54-5941-483c-addc-f43ac4fbfa12.jpg?v=1628756599"},"aspect_ratio":1.0,"height":800,"media_type":"image","src":"https:\/\/cdn.shopify.com\/s\/files\/1\/0467\/9080\/3610\/products\/8_9a642f54-5941-483c-addc-f43ac4fbfa12.jpg?v=1628756599","width":800},{"alt":null,"id":23143743422618,"position":4,"preview_image":{"aspect_ratio":1.0,"height":800,"width":800,"src":"https:\/\/cdn.shopify.com\/s\/files\/1\/0467\/9080\/3610\/products\/4_eab61ed4-ead9-4468-8e7e-dda2b79dfede.jpg?v=1628756599"},"aspect_ratio":1.0,"height":800,"media_type":"image","src":"https:\/\/cdn.shopify.com\/s\/files\/1\/0467\/9080\/3610\/products\/4_eab61ed4-ead9-4468-8e7e-dda2b79dfede.jpg?v=1628756599","width":800},{"alt":null,"id":23143743455386,"position":5,"preview_image":{"aspect_ratio":1.0,"height":800,"width":800,"src":"https:\/\/cdn.shopify.com\/s\/files\/1\/0467\/9080\/3610\/products\/1_3eb5c3e2-a05b-4fd8-84d7-879d9f19feb1.jpg?v=1628756599"},"aspect_ratio":1.0,"height":800,"media_type":"image","src":"https:\/\/cdn.shopify.com\/s\/files\/1\/0467\/9080\/3610\/products\/1_3eb5c3e2-a05b-4fd8-84d7-879d9f19feb1.jpg?v=1628756599","width":800},{"alt":null,"id":23143743488154,"position":6,"preview_image":{"aspect_ratio":1.0,"height":800,"width":800,"src":"https:\/\/cdn.shopify.com\/s\/files\/1\/0467\/9080\/3610\/products\/3_82755dba-46ef-4443-9818-dab9cbf3fda5.jpg?v=1628756599"},"aspect_ratio":1.0,"height":800,"media_type":"image","src":"https:\/\/cdn.shopify.com\/s\/files\/1\/0467\/9080\/3610\/products\/3_82755dba-46ef-4443-9818-dab9cbf3fda5.jpg?v=1628756599","width":800},{"alt":null,"id":23143743520922,"position":7,"preview_image":{"aspect_ratio":1.0,"height":800,"width":800,"src":"https:\/\/cdn.shopify.com\/s\/files\/1\/0467\/9080\/3610\/products\/6_805376e8-6fdc-4d69-ae88-3c8e7500c49d.jpg?v=1628756599"},"aspect_ratio":1.0,"height":800,"media_type":"image","src":"https:\/\/cdn.shopify.com\/s\/files\/1\/0467\/9080\/3610\/products\/6_805376e8-6fdc-4d69-ae88-3c8e7500c49d.jpg?v=1628756599","width":800},{"alt":null,"id":23143743553690,"position":8,"preview_image":{"aspect_ratio":1.0,"height":800,"width":800,"src":"https:\/\/cdn.shopify.com\/s\/files\/1\/0467\/9080\/3610\/products\/7_867c09f2-763f-4215-9b4b-1522bbf80909.jpg?v=1628756599"},"aspect_ratio":1.0,"height":800,"media_type":"image","src":"https:\/\/cdn.shopify.com\/s\/files\/1\/0467\/9080\/3610\/products\/7_867c09f2-763f-4215-9b4b-1522bbf80909.jpg?v=1628756599","width":800}],"requires_selling_plan":false,"selling_plan_groups":[],"content":"\u003cp data-mce-fragment=\"1\"\u003e\u003cspan style=\"color: #ff2a00;\"\u003e\u003cstrong data-mce-fragment=\"1\"\u003eFEATURES\u003c\/strong\u003e\u003c\/span\u003e\u003c\/p\u003e\n\u003cul\u003e\n\u003cli\u003e\n\u003cp\u003e\u003cstrong\u003eICE SILK COOLING MATERIAL:\u003c\/strong\u003e Provides heat and moisture management through ventilation.\u003c\/p\u003e\n\u003c\/li\u003e\n\u003cli\u003e\n\u003cp\u003e\u003cstrong\u003eLIFT\u003c\/strong\u003e \u003cstrong\u003e\u0026amp;\u003c\/strong\u003e \u003cstrong\u003eSUPPORTS BREAST:\u003c\/strong\u003e a wireless design bra and natural pads that provide cozily and firmer support.\u003c\/p\u003e\n\u003c\/li\u003e\n\u003cli\u003e\n\u003cp\u003e\u003cstrong\u003eCOMFORTABLE\u003c\/strong\u003e \u003cstrong\u003e\u0026amp;\u003c\/strong\u003e \u003cstrong\u003eWIRELESS:\u003c\/strong\u003e Prevents wrinkled skin, pain, and discomfort.\u003c\/p\u003e\n\u003c\/li\u003e\n\u003cli\u003e\n\u003cp\u003e\u003cstrong\u003eMOIST-WICKING \u0026amp;\u003c\/strong\u003e \u003cstrong\u003eSWEATPROOF:\u003c\/strong\u003e making it safe to skin and prevent rashes and skin irritations caused by heat \u0026amp; sweat.\u003c\/p\u003e\n\u003c\/li\u003e\n\u003cli\u003e\n\u003cp\u003e\u003cstrong\u003eSTRETCHABLE \u0026amp;\u003c\/strong\u003e \u003cstrong\u003eBREATHABLE:\u003c\/strong\u003e made of high-quality nylon and spandex material making it super stretchable, seamless, and breathable to use.\u003c\/p\u003e\n\u003c\/li\u003e\n\u003cli\u003e\n\u003cp\u003e\u003cstrong\u003eFULL SMOOTH DESIGN:\u003c\/strong\u003e Smoothtec design virtually invisible under clothes.\u003c\/p\u003e\n\u003c\/li\u003e\n\u003c\/ul\u003e\n\u003cp data-mce-fragment=\"1\"\u003e\u003cstrong data-mce-fragment=\"1\"\u003e\u003cimg style=\"display: block; margin-left: auto; margin-right: auto;\" src=\"https:\/\/img.staticdj.com\/86d5d7dc03f495b12e8739389fa5e895.gif\"\u003e\u003c\/strong\u003e\u003c\/p\u003e\n\u003cp\u003e\u003cspan style=\"color: #ff2a00;\"\u003e\u003cstrong\u003eSIZE TABLE\u003c\/strong\u003e\u003c\/span\u003e\u003c\/p\u003e\n\u003cp\u003e\u003cstrong\u003e\u003cimg alt=\"\" src=\"https:\/\/cdn.shopifycdn.net\/s\/files\/1\/0356\/3048\/1544\/files\/CM_27e26eb2-a153-4ce3-8a2f-4b09ed255404_480x480.jpg?v=1628755119\" style=\"display: block; margin-left: auto; margin-right: auto;\"\u003e\u003c\/strong\u003e\u003c\/p\u003e\n\u003cp data-mce-fragment=\"1\"\u003e\u003cspan style=\"color: #ff2a00;\"\u003e\u003cstrong data-mce-fragment=\"1\"\u003eSPECIFICATIONS\u003c\/strong\u003e\u003c\/span\u003e\u003c\/p\u003e\n\u003cul class=\"default\"\u003e\n\u003cli class=\"default\"\u003e\n\u003cp\u003e\u003cstrong\u003eFabric:\u003c\/strong\u003e Nyon, Spandex\u003c\/p\u003e\n\u003c\/li\u003e\n\u003cli class=\"default\"\u003e\n\u003cp\u003e\u003cstrong\u003eCup Type:\u003c\/strong\u003e Thin Mold Cup\u003c\/p\u003e\n\u003c\/li\u003e\n\u003cli class=\"default\"\u003e\n\u003cp\u003e\u003cstrong\u003eSize:\u003c\/strong\u003e M, L, XL, 2XL, 3XL, 4XL, 5XL, 6XL, 7XL\u003c\/p\u003e\n\u003c\/li\u003e\n\u003cli class=\"default\"\u003e\n\u003cp\u003e\u003cstrong\u003eColor:\u003c\/strong\u003e black, gray, blue, beige\u003c\/p\u003e\n\u003c\/li\u003e\n\u003cli class=\"default\"\u003e\n\u003cp\u003e\u003cstrong\u003ePackage:\u003c\/strong\u003e 1 * ICE SILK PLUS SIZE BRA\u003c\/p\u003e\n\u003c\/li\u003e\n\u003c\/ul\u003e\n\u003cp data-mce-fragment=\"1\"\u003e\u003cspan style=\"color: #ff2a00;\"\u003e\u003cstrong data-mce-fragment=\"1\"\u003eNOTE\u003c\/strong\u003e\u003c\/span\u003e\u003c\/p\u003e\n\u003cp data-mce-fragment=\"1\"\u003ePlease allow slight measurement deviations due to manual measurement.\u003c\/p\u003e\n\u003cp data-mce-fragment=\"1\"\u003eDue to the different monitor and light effect, the actual color of the item might be slightly different from the color showed in the pictures.\u003c\/p\u003e"}
Adding product to your cart
FEATURES
ICE SILK COOLING MATERIAL: Provides heat and moisture management through ventilation.

LIFT & SUPPORTS BREAST: a wireless design bra and natural pads that provide cozily and firmer support.

COMFORTABLE & WIRELESS: Prevents wrinkled skin, pain, and discomfort.

MOIST-WICKING & SWEATPROOF: making it safe to skin and prevent rashes and skin irritations caused by heat & sweat.

STRETCHABLE & BREATHABLE: made of high-quality nylon and spandex material making it super stretchable, seamless, and breathable to use.

FULL SMOOTH DESIGN: Smoothtec design virtually invisible under clothes.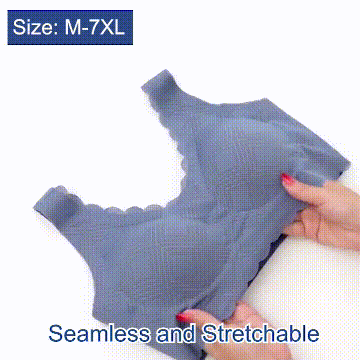 SIZE TABLE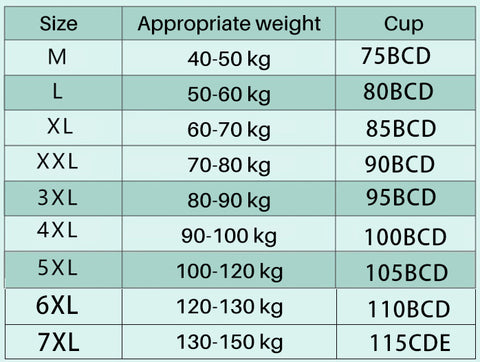 SPECIFICATIONS
Fabric: Nyon, Spandex

Cup Type: Thin Mold Cup

Size: M, L, XL, 2XL, 3XL, 4XL, 5XL, 6XL, 7XL

Color: black, gray, blue, beige

Package: 1 * ICE SILK PLUS SIZE BRA
NOTE
Please allow slight measurement deviations due to manual measurement.
Due to the different monitor and light effect, the actual color of the item might be slightly different from the color showed in the pictures.