{"id":6933374763162,"title":"Professional Cycling Gloves","handle":"professional-cycling-gloves","description":"\u003cp style=\"text-align: center;\"\u003e\u003cstrong\u003e\u003cspan style=\"color: #0e68ca;\" data-mce-fragment=\"1\"\u003eWe present the gloves with a special design that reduces the friction between the handlebar and the hand, ensuring maximum driving comfort.\u003c\/span\u003e\u003c\/strong\u003e\u003c\/p\u003e\n\u003cp\u003e\u003cspan style=\"color: #ff2a00;\"\u003e\u003cstrong\u003eFEATURES\u003c\/strong\u003e\u003c\/span\u003e\u003c\/p\u003e\n\u003cul\u003e\n\u003cli\u003e\n\u003cp\u003eWearing it regularly will reduce hand fatigue and soreness even after long rides, and your hands will always be fully protected even in the event of a fall.\u003c\/p\u003e\n\u003c\/li\u003e\n\u003cli\u003e\n\u003cp\u003eThe gloves are made of high-quality material that is impermeable to the wind, and thus fully protects the hand and allows a comfortable grip on the handlebars of motorcycles and bicycles.\u003c\/p\u003e\n\u003c\/li\u003e\n\u003cli\u003e\n\u003cp\u003eThe gloves have a special material on the fingers that allows the use of touch screens. This allows you to use your phone smoothly without removing your gloves!\u003c\/p\u003e\n\u003c\/li\u003e\n\u003cli\u003e\n\u003cp\u003eFor extra support and fit while riding, there is a special wrist strap that can be adjusted according to the size of your hand or wrist.\u003c\/p\u003e\n\u003c\/li\u003e\n\u003c\/ul\u003e\n\u003cp\u003e\u003cspan style=\"color: #ff2a00;\"\u003e\u003cstrong\u003eSIZE TABLE\u003c\/strong\u003e\u003c\/span\u003e\u003c\/p\u003e\n\u003cp\u003e\u003cspan style=\"color: #ff2a00;\"\u003e\u003cstrong\u003e\u003cimg alt=\"\" src=\"https:\/\/cdn.shopifycdn.net\/s\/files\/1\/0356\/3048\/1544\/files\/a1678da835f356c92eda409036b5b196_480x480.jpg?v=1628155334\" style=\"display: block; margin-left: auto; margin-right: auto;\"\u003e\u003c\/strong\u003e\u003c\/span\u003e\u003c\/p\u003e\n\u003cp\u003e\u003cspan style=\"color: #ff2a00;\"\u003e\u003cstrong\u003eSPECIFICATIONS\u003c\/strong\u003e\u003c\/span\u003e\u003c\/p\u003e\n\u003cul\u003e\n\u003cli\u003e\n\u003cp\u003e\u003cstrong\u003eSize:\u003c\/strong\u003e M-XXL\u003c\/p\u003e\n\u003c\/li\u003e\n\u003cli\u003e\n\u003cp\u003e\u003cstrong\u003eColor:\u003c\/strong\u003e red, blue, black\u003c\/p\u003e\n\u003c\/li\u003e\n\u003cli\u003e\n\u003cp\u003e\u003cstrong\u003eWeight:\u003c\/strong\u003e 185 g\u003c\/p\u003e\n\u003c\/li\u003e\n\u003cli\u003e\n\u003cp\u003e\u003cstrong\u003ePackage:\u003c\/strong\u003e 1 * Professional Cycling Gloves\u003c\/p\u003e\n\u003c\/li\u003e\n\u003c\/ul\u003e\n\u003cp\u003e\u003cspan style=\"color: #ff2a00;\"\u003e\u003cstrong\u003eNOTE\u003c\/strong\u003e\u003c\/span\u003e\u003c\/p\u003e\n\u003cp\u003ePlease allow slight measurement deviations due to manual measurement.\u003c\/p\u003e\n\u003cp\u003eDue to the different monitor and light effect, the actual color of the item might be slightly different from the color showed in the pictures.\u003c\/p\u003e","published_at":"2021-08-04T23:48:17-10:00","created_at":"2021-08-04T23:48:22-10:00","vendor":"Yochoos","type":"Gloves","tags":["gloves"],"price":2999,"price_min":2999,"price_max":2999,"available":true,"price_varies":false,"compare_at_price":0,"compare_at_price_min":0,"compare_at_price_max":0,"compare_at_price_varies":false,"variants":[{"id":40559232843930,"title":"red \/ M","option1":"red","option2":"M","option3":null,"sku":"GL19406-C021-S046","requires_shipping":true,"taxable":false,"featured_image":{"id":30587433779354,"product_id":6933374763162,"position":7,"created_at":"2021-08-04T23:48:22-10:00","updated_at":"2021-08-04T23:48:22-10:00","alt":null,"width":800,"height":800,"src":"https:\/\/cdn.shopify.com\/s\/files\/1\/0467\/9080\/3610\/products\/7_a32e7b48-30c2-4852-b266-688467d012a2.jpg?v=1628156902","variant_ids":[40559232843930,40559232876698,40559232909466,40559232942234]},"available":true,"name":"Professional Cycling Gloves - red \/ M","public_title":"red \/ M","options":["red","M"],"price":2999,"weight":0,"compare_at_price":0,"inventory_management":null,"barcode":null,"featured_media":{"alt":null,"id":23000470749338,"position":7,"preview_image":{"aspect_ratio":1.0,"height":800,"width":800,"src":"https:\/\/cdn.shopify.com\/s\/files\/1\/0467\/9080\/3610\/products\/7_a32e7b48-30c2-4852-b266-688467d012a2.jpg?v=1628156902"}},"requires_selling_plan":false,"selling_plan_allocations":[]},{"id":40559232876698,"title":"red \/ L","option1":"red","option2":"L","option3":null,"sku":"GL19406-C021-S047","requires_shipping":true,"taxable":false,"featured_image":{"id":30587433779354,"product_id":6933374763162,"position":7,"created_at":"2021-08-04T23:48:22-10:00","updated_at":"2021-08-04T23:48:22-10:00","alt":null,"width":800,"height":800,"src":"https:\/\/cdn.shopify.com\/s\/files\/1\/0467\/9080\/3610\/products\/7_a32e7b48-30c2-4852-b266-688467d012a2.jpg?v=1628156902","variant_ids":[40559232843930,40559232876698,40559232909466,40559232942234]},"available":true,"name":"Professional Cycling Gloves - red \/ L","public_title":"red \/ L","options":["red","L"],"price":2999,"weight":0,"compare_at_price":0,"inventory_management":null,"barcode":null,"featured_media":{"alt":null,"id":23000470749338,"position":7,"preview_image":{"aspect_ratio":1.0,"height":800,"width":800,"src":"https:\/\/cdn.shopify.com\/s\/files\/1\/0467\/9080\/3610\/products\/7_a32e7b48-30c2-4852-b266-688467d012a2.jpg?v=1628156902"}},"requires_selling_plan":false,"selling_plan_allocations":[]},{"id":40559232909466,"title":"red \/ XL","option1":"red","option2":"XL","option3":null,"sku":"GL19406-C021-S048","requires_shipping":true,"taxable":false,"featured_image":{"id":30587433779354,"product_id":6933374763162,"position":7,"created_at":"2021-08-04T23:48:22-10:00","updated_at":"2021-08-04T23:48:22-10:00","alt":null,"width":800,"height":800,"src":"https:\/\/cdn.shopify.com\/s\/files\/1\/0467\/9080\/3610\/products\/7_a32e7b48-30c2-4852-b266-688467d012a2.jpg?v=1628156902","variant_ids":[40559232843930,40559232876698,40559232909466,40559232942234]},"available":true,"name":"Professional Cycling Gloves - red \/ XL","public_title":"red \/ XL","options":["red","XL"],"price":2999,"weight":0,"compare_at_price":0,"inventory_management":null,"barcode":null,"featured_media":{"alt":null,"id":23000470749338,"position":7,"preview_image":{"aspect_ratio":1.0,"height":800,"width":800,"src":"https:\/\/cdn.shopify.com\/s\/files\/1\/0467\/9080\/3610\/products\/7_a32e7b48-30c2-4852-b266-688467d012a2.jpg?v=1628156902"}},"requires_selling_plan":false,"selling_plan_allocations":[]},{"id":40559232942234,"title":"red \/ XXL","option1":"red","option2":"XXL","option3":null,"sku":"GL19406-C021-S049","requires_shipping":true,"taxable":false,"featured_image":{"id":30587433779354,"product_id":6933374763162,"position":7,"created_at":"2021-08-04T23:48:22-10:00","updated_at":"2021-08-04T23:48:22-10:00","alt":null,"width":800,"height":800,"src":"https:\/\/cdn.shopify.com\/s\/files\/1\/0467\/9080\/3610\/products\/7_a32e7b48-30c2-4852-b266-688467d012a2.jpg?v=1628156902","variant_ids":[40559232843930,40559232876698,40559232909466,40559232942234]},"available":true,"name":"Professional Cycling Gloves - red \/ XXL","public_title":"red \/ XXL","options":["red","XXL"],"price":2999,"weight":0,"compare_at_price":0,"inventory_management":null,"barcode":null,"featured_media":{"alt":null,"id":23000470749338,"position":7,"preview_image":{"aspect_ratio":1.0,"height":800,"width":800,"src":"https:\/\/cdn.shopify.com\/s\/files\/1\/0467\/9080\/3610\/products\/7_a32e7b48-30c2-4852-b266-688467d012a2.jpg?v=1628156902"}},"requires_selling_plan":false,"selling_plan_allocations":[]},{"id":40559232975002,"title":"blue \/ M","option1":"blue","option2":"M","option3":null,"sku":"GL19406-C027-S046","requires_shipping":true,"taxable":false,"featured_image":{"id":30587433746586,"product_id":6933374763162,"position":6,"created_at":"2021-08-04T23:48:22-10:00","updated_at":"2021-08-04T23:48:22-10:00","alt":null,"width":800,"height":800,"src":"https:\/\/cdn.shopify.com\/s\/files\/1\/0467\/9080\/3610\/products\/6_8db06e7a-e433-4152-b84b-85b9d85deaa6.jpg?v=1628156902","variant_ids":[40559232975002,40559233007770,40559233040538,40559233106074]},"available":true,"name":"Professional Cycling Gloves - blue \/ M","public_title":"blue \/ M","options":["blue","M"],"price":2999,"weight":0,"compare_at_price":0,"inventory_management":null,"barcode":null,"featured_media":{"alt":null,"id":23000470716570,"position":6,"preview_image":{"aspect_ratio":1.0,"height":800,"width":800,"src":"https:\/\/cdn.shopify.com\/s\/files\/1\/0467\/9080\/3610\/products\/6_8db06e7a-e433-4152-b84b-85b9d85deaa6.jpg?v=1628156902"}},"requires_selling_plan":false,"selling_plan_allocations":[]},{"id":40559233007770,"title":"blue \/ L","option1":"blue","option2":"L","option3":null,"sku":"GL19406-C027-S047","requires_shipping":true,"taxable":false,"featured_image":{"id":30587433746586,"product_id":6933374763162,"position":6,"created_at":"2021-08-04T23:48:22-10:00","updated_at":"2021-08-04T23:48:22-10:00","alt":null,"width":800,"height":800,"src":"https:\/\/cdn.shopify.com\/s\/files\/1\/0467\/9080\/3610\/products\/6_8db06e7a-e433-4152-b84b-85b9d85deaa6.jpg?v=1628156902","variant_ids":[40559232975002,40559233007770,40559233040538,40559233106074]},"available":true,"name":"Professional Cycling Gloves - blue \/ L","public_title":"blue \/ L","options":["blue","L"],"price":2999,"weight":0,"compare_at_price":0,"inventory_management":null,"barcode":null,"featured_media":{"alt":null,"id":23000470716570,"position":6,"preview_image":{"aspect_ratio":1.0,"height":800,"width":800,"src":"https:\/\/cdn.shopify.com\/s\/files\/1\/0467\/9080\/3610\/products\/6_8db06e7a-e433-4152-b84b-85b9d85deaa6.jpg?v=1628156902"}},"requires_selling_plan":false,"selling_plan_allocations":[]},{"id":40559233040538,"title":"blue \/ XL","option1":"blue","option2":"XL","option3":null,"sku":"GL19406-C027-S048","requires_shipping":true,"taxable":false,"featured_image":{"id":30587433746586,"product_id":6933374763162,"position":6,"created_at":"2021-08-04T23:48:22-10:00","updated_at":"2021-08-04T23:48:22-10:00","alt":null,"width":800,"height":800,"src":"https:\/\/cdn.shopify.com\/s\/files\/1\/0467\/9080\/3610\/products\/6_8db06e7a-e433-4152-b84b-85b9d85deaa6.jpg?v=1628156902","variant_ids":[40559232975002,40559233007770,40559233040538,40559233106074]},"available":true,"name":"Professional Cycling Gloves - blue \/ XL","public_title":"blue \/ XL","options":["blue","XL"],"price":2999,"weight":0,"compare_at_price":0,"inventory_management":null,"barcode":null,"featured_media":{"alt":null,"id":23000470716570,"position":6,"preview_image":{"aspect_ratio":1.0,"height":800,"width":800,"src":"https:\/\/cdn.shopify.com\/s\/files\/1\/0467\/9080\/3610\/products\/6_8db06e7a-e433-4152-b84b-85b9d85deaa6.jpg?v=1628156902"}},"requires_selling_plan":false,"selling_plan_allocations":[]},{"id":40559233106074,"title":"blue \/ XXL","option1":"blue","option2":"XXL","option3":null,"sku":"GL19406-C027-S049","requires_shipping":true,"taxable":false,"featured_image":{"id":30587433746586,"product_id":6933374763162,"position":6,"created_at":"2021-08-04T23:48:22-10:00","updated_at":"2021-08-04T23:48:22-10:00","alt":null,"width":800,"height":800,"src":"https:\/\/cdn.shopify.com\/s\/files\/1\/0467\/9080\/3610\/products\/6_8db06e7a-e433-4152-b84b-85b9d85deaa6.jpg?v=1628156902","variant_ids":[40559232975002,40559233007770,40559233040538,40559233106074]},"available":true,"name":"Professional Cycling Gloves - blue \/ XXL","public_title":"blue \/ XXL","options":["blue","XXL"],"price":2999,"weight":0,"compare_at_price":0,"inventory_management":null,"barcode":null,"featured_media":{"alt":null,"id":23000470716570,"position":6,"preview_image":{"aspect_ratio":1.0,"height":800,"width":800,"src":"https:\/\/cdn.shopify.com\/s\/files\/1\/0467\/9080\/3610\/products\/6_8db06e7a-e433-4152-b84b-85b9d85deaa6.jpg?v=1628156902"}},"requires_selling_plan":false,"selling_plan_allocations":[]},{"id":40559233171610,"title":"black \/ M","option1":"black","option2":"M","option3":null,"sku":"GL19406-C020-S046","requires_shipping":true,"taxable":false,"featured_image":{"id":30587433713818,"product_id":6933374763162,"position":5,"created_at":"2021-08-04T23:48:22-10:00","updated_at":"2021-08-04T23:48:22-10:00","alt":null,"width":800,"height":800,"src":"https:\/\/cdn.shopify.com\/s\/files\/1\/0467\/9080\/3610\/products\/5_ca379e1f-e80c-4112-a553-2cc0ea20b841.jpg?v=1628156902","variant_ids":[40559233171610,40559233237146,40559233302682,40559233335450]},"available":true,"name":"Professional Cycling Gloves - black \/ M","public_title":"black \/ M","options":["black","M"],"price":2999,"weight":0,"compare_at_price":0,"inventory_management":null,"barcode":null,"featured_media":{"alt":null,"id":23000470683802,"position":5,"preview_image":{"aspect_ratio":1.0,"height":800,"width":800,"src":"https:\/\/cdn.shopify.com\/s\/files\/1\/0467\/9080\/3610\/products\/5_ca379e1f-e80c-4112-a553-2cc0ea20b841.jpg?v=1628156902"}},"requires_selling_plan":false,"selling_plan_allocations":[]},{"id":40559233237146,"title":"black \/ L","option1":"black","option2":"L","option3":null,"sku":"GL19406-C020-S047","requires_shipping":true,"taxable":false,"featured_image":{"id":30587433713818,"product_id":6933374763162,"position":5,"created_at":"2021-08-04T23:48:22-10:00","updated_at":"2021-08-04T23:48:22-10:00","alt":null,"width":800,"height":800,"src":"https:\/\/cdn.shopify.com\/s\/files\/1\/0467\/9080\/3610\/products\/5_ca379e1f-e80c-4112-a553-2cc0ea20b841.jpg?v=1628156902","variant_ids":[40559233171610,40559233237146,40559233302682,40559233335450]},"available":true,"name":"Professional Cycling Gloves - black \/ L","public_title":"black \/ L","options":["black","L"],"price":2999,"weight":0,"compare_at_price":0,"inventory_management":null,"barcode":null,"featured_media":{"alt":null,"id":23000470683802,"position":5,"preview_image":{"aspect_ratio":1.0,"height":800,"width":800,"src":"https:\/\/cdn.shopify.com\/s\/files\/1\/0467\/9080\/3610\/products\/5_ca379e1f-e80c-4112-a553-2cc0ea20b841.jpg?v=1628156902"}},"requires_selling_plan":false,"selling_plan_allocations":[]},{"id":40559233302682,"title":"black \/ XL","option1":"black","option2":"XL","option3":null,"sku":"GL19406-C020-S048","requires_shipping":true,"taxable":false,"featured_image":{"id":30587433713818,"product_id":6933374763162,"position":5,"created_at":"2021-08-04T23:48:22-10:00","updated_at":"2021-08-04T23:48:22-10:00","alt":null,"width":800,"height":800,"src":"https:\/\/cdn.shopify.com\/s\/files\/1\/0467\/9080\/3610\/products\/5_ca379e1f-e80c-4112-a553-2cc0ea20b841.jpg?v=1628156902","variant_ids":[40559233171610,40559233237146,40559233302682,40559233335450]},"available":true,"name":"Professional Cycling Gloves - black \/ XL","public_title":"black \/ XL","options":["black","XL"],"price":2999,"weight":0,"compare_at_price":0,"inventory_management":null,"barcode":null,"featured_media":{"alt":null,"id":23000470683802,"position":5,"preview_image":{"aspect_ratio":1.0,"height":800,"width":800,"src":"https:\/\/cdn.shopify.com\/s\/files\/1\/0467\/9080\/3610\/products\/5_ca379e1f-e80c-4112-a553-2cc0ea20b841.jpg?v=1628156902"}},"requires_selling_plan":false,"selling_plan_allocations":[]},{"id":40559233335450,"title":"black \/ XXL","option1":"black","option2":"XXL","option3":null,"sku":"GL19406-C020-S049","requires_shipping":true,"taxable":false,"featured_image":{"id":30587433713818,"product_id":6933374763162,"position":5,"created_at":"2021-08-04T23:48:22-10:00","updated_at":"2021-08-04T23:48:22-10:00","alt":null,"width":800,"height":800,"src":"https:\/\/cdn.shopify.com\/s\/files\/1\/0467\/9080\/3610\/products\/5_ca379e1f-e80c-4112-a553-2cc0ea20b841.jpg?v=1628156902","variant_ids":[40559233171610,40559233237146,40559233302682,40559233335450]},"available":true,"name":"Professional Cycling Gloves - black \/ XXL","public_title":"black \/ XXL","options":["black","XXL"],"price":2999,"weight":0,"compare_at_price":0,"inventory_management":null,"barcode":null,"featured_media":{"alt":null,"id":23000470683802,"position":5,"preview_image":{"aspect_ratio":1.0,"height":800,"width":800,"src":"https:\/\/cdn.shopify.com\/s\/files\/1\/0467\/9080\/3610\/products\/5_ca379e1f-e80c-4112-a553-2cc0ea20b841.jpg?v=1628156902"}},"requires_selling_plan":false,"selling_plan_allocations":[]}],"images":["\/\/cdn.shopify.com\/s\/files\/1\/0467\/9080\/3610\/products\/4_4a39cd43-2684-4fdb-88e0-9358656b0bd1.jpg?v=1628156902","\/\/cdn.shopify.com\/s\/files\/1\/0467\/9080\/3610\/products\/2_d601c429-9583-479c-ac4f-33a9ef75d567.jpg?v=1628156902","\/\/cdn.shopify.com\/s\/files\/1\/0467\/9080\/3610\/products\/1_9ef2f1f9-0126-443c-98e9-f7438b3d03fc.jpg?v=1628156902","\/\/cdn.shopify.com\/s\/files\/1\/0467\/9080\/3610\/products\/3_25c7a057-359b-4d39-98d4-9312495cdaa3.jpg?v=1628156902","\/\/cdn.shopify.com\/s\/files\/1\/0467\/9080\/3610\/products\/5_ca379e1f-e80c-4112-a553-2cc0ea20b841.jpg?v=1628156902","\/\/cdn.shopify.com\/s\/files\/1\/0467\/9080\/3610\/products\/6_8db06e7a-e433-4152-b84b-85b9d85deaa6.jpg?v=1628156902","\/\/cdn.shopify.com\/s\/files\/1\/0467\/9080\/3610\/products\/7_a32e7b48-30c2-4852-b266-688467d012a2.jpg?v=1628156902","\/\/cdn.shopify.com\/s\/files\/1\/0467\/9080\/3610\/products\/8_96010b2a-d4c8-4b92-be2b-775fc3088a87.jpg?v=1628156902"],"featured_image":"\/\/cdn.shopify.com\/s\/files\/1\/0467\/9080\/3610\/products\/4_4a39cd43-2684-4fdb-88e0-9358656b0bd1.jpg?v=1628156902","options":["Color","Size"],"media":[{"alt":null,"id":23000470552730,"position":1,"preview_image":{"aspect_ratio":1.0,"height":800,"width":800,"src":"https:\/\/cdn.shopify.com\/s\/files\/1\/0467\/9080\/3610\/products\/4_4a39cd43-2684-4fdb-88e0-9358656b0bd1.jpg?v=1628156902"},"aspect_ratio":1.0,"height":800,"media_type":"image","src":"https:\/\/cdn.shopify.com\/s\/files\/1\/0467\/9080\/3610\/products\/4_4a39cd43-2684-4fdb-88e0-9358656b0bd1.jpg?v=1628156902","width":800},{"alt":null,"id":23000470585498,"position":2,"preview_image":{"aspect_ratio":1.0,"height":800,"width":800,"src":"https:\/\/cdn.shopify.com\/s\/files\/1\/0467\/9080\/3610\/products\/2_d601c429-9583-479c-ac4f-33a9ef75d567.jpg?v=1628156902"},"aspect_ratio":1.0,"height":800,"media_type":"image","src":"https:\/\/cdn.shopify.com\/s\/files\/1\/0467\/9080\/3610\/products\/2_d601c429-9583-479c-ac4f-33a9ef75d567.jpg?v=1628156902","width":800},{"alt":null,"id":23000470618266,"position":3,"preview_image":{"aspect_ratio":1.0,"height":800,"width":800,"src":"https:\/\/cdn.shopify.com\/s\/files\/1\/0467\/9080\/3610\/products\/1_9ef2f1f9-0126-443c-98e9-f7438b3d03fc.jpg?v=1628156902"},"aspect_ratio":1.0,"height":800,"media_type":"image","src":"https:\/\/cdn.shopify.com\/s\/files\/1\/0467\/9080\/3610\/products\/1_9ef2f1f9-0126-443c-98e9-f7438b3d03fc.jpg?v=1628156902","width":800},{"alt":null,"id":23000470651034,"position":4,"preview_image":{"aspect_ratio":1.0,"height":800,"width":800,"src":"https:\/\/cdn.shopify.com\/s\/files\/1\/0467\/9080\/3610\/products\/3_25c7a057-359b-4d39-98d4-9312495cdaa3.jpg?v=1628156902"},"aspect_ratio":1.0,"height":800,"media_type":"image","src":"https:\/\/cdn.shopify.com\/s\/files\/1\/0467\/9080\/3610\/products\/3_25c7a057-359b-4d39-98d4-9312495cdaa3.jpg?v=1628156902","width":800},{"alt":null,"id":23000470683802,"position":5,"preview_image":{"aspect_ratio":1.0,"height":800,"width":800,"src":"https:\/\/cdn.shopify.com\/s\/files\/1\/0467\/9080\/3610\/products\/5_ca379e1f-e80c-4112-a553-2cc0ea20b841.jpg?v=1628156902"},"aspect_ratio":1.0,"height":800,"media_type":"image","src":"https:\/\/cdn.shopify.com\/s\/files\/1\/0467\/9080\/3610\/products\/5_ca379e1f-e80c-4112-a553-2cc0ea20b841.jpg?v=1628156902","width":800},{"alt":null,"id":23000470716570,"position":6,"preview_image":{"aspect_ratio":1.0,"height":800,"width":800,"src":"https:\/\/cdn.shopify.com\/s\/files\/1\/0467\/9080\/3610\/products\/6_8db06e7a-e433-4152-b84b-85b9d85deaa6.jpg?v=1628156902"},"aspect_ratio":1.0,"height":800,"media_type":"image","src":"https:\/\/cdn.shopify.com\/s\/files\/1\/0467\/9080\/3610\/products\/6_8db06e7a-e433-4152-b84b-85b9d85deaa6.jpg?v=1628156902","width":800},{"alt":null,"id":23000470749338,"position":7,"preview_image":{"aspect_ratio":1.0,"height":800,"width":800,"src":"https:\/\/cdn.shopify.com\/s\/files\/1\/0467\/9080\/3610\/products\/7_a32e7b48-30c2-4852-b266-688467d012a2.jpg?v=1628156902"},"aspect_ratio":1.0,"height":800,"media_type":"image","src":"https:\/\/cdn.shopify.com\/s\/files\/1\/0467\/9080\/3610\/products\/7_a32e7b48-30c2-4852-b266-688467d012a2.jpg?v=1628156902","width":800},{"alt":null,"id":23000470782106,"position":8,"preview_image":{"aspect_ratio":1.0,"height":800,"width":800,"src":"https:\/\/cdn.shopify.com\/s\/files\/1\/0467\/9080\/3610\/products\/8_96010b2a-d4c8-4b92-be2b-775fc3088a87.jpg?v=1628156902"},"aspect_ratio":1.0,"height":800,"media_type":"image","src":"https:\/\/cdn.shopify.com\/s\/files\/1\/0467\/9080\/3610\/products\/8_96010b2a-d4c8-4b92-be2b-775fc3088a87.jpg?v=1628156902","width":800}],"requires_selling_plan":false,"selling_plan_groups":[],"content":"\u003cp style=\"text-align: center;\"\u003e\u003cstrong\u003e\u003cspan style=\"color: #0e68ca;\" data-mce-fragment=\"1\"\u003eWe present the gloves with a special design that reduces the friction between the handlebar and the hand, ensuring maximum driving comfort.\u003c\/span\u003e\u003c\/strong\u003e\u003c\/p\u003e\n\u003cp\u003e\u003cspan style=\"color: #ff2a00;\"\u003e\u003cstrong\u003eFEATURES\u003c\/strong\u003e\u003c\/span\u003e\u003c\/p\u003e\n\u003cul\u003e\n\u003cli\u003e\n\u003cp\u003eWearing it regularly will reduce hand fatigue and soreness even after long rides, and your hands will always be fully protected even in the event of a fall.\u003c\/p\u003e\n\u003c\/li\u003e\n\u003cli\u003e\n\u003cp\u003eThe gloves are made of high-quality material that is impermeable to the wind, and thus fully protects the hand and allows a comfortable grip on the handlebars of motorcycles and bicycles.\u003c\/p\u003e\n\u003c\/li\u003e\n\u003cli\u003e\n\u003cp\u003eThe gloves have a special material on the fingers that allows the use of touch screens. This allows you to use your phone smoothly without removing your gloves!\u003c\/p\u003e\n\u003c\/li\u003e\n\u003cli\u003e\n\u003cp\u003eFor extra support and fit while riding, there is a special wrist strap that can be adjusted according to the size of your hand or wrist.\u003c\/p\u003e\n\u003c\/li\u003e\n\u003c\/ul\u003e\n\u003cp\u003e\u003cspan style=\"color: #ff2a00;\"\u003e\u003cstrong\u003eSIZE TABLE\u003c\/strong\u003e\u003c\/span\u003e\u003c\/p\u003e\n\u003cp\u003e\u003cspan style=\"color: #ff2a00;\"\u003e\u003cstrong\u003e\u003cimg alt=\"\" src=\"https:\/\/cdn.shopifycdn.net\/s\/files\/1\/0356\/3048\/1544\/files\/a1678da835f356c92eda409036b5b196_480x480.jpg?v=1628155334\" style=\"display: block; margin-left: auto; margin-right: auto;\"\u003e\u003c\/strong\u003e\u003c\/span\u003e\u003c\/p\u003e\n\u003cp\u003e\u003cspan style=\"color: #ff2a00;\"\u003e\u003cstrong\u003eSPECIFICATIONS\u003c\/strong\u003e\u003c\/span\u003e\u003c\/p\u003e\n\u003cul\u003e\n\u003cli\u003e\n\u003cp\u003e\u003cstrong\u003eSize:\u003c\/strong\u003e M-XXL\u003c\/p\u003e\n\u003c\/li\u003e\n\u003cli\u003e\n\u003cp\u003e\u003cstrong\u003eColor:\u003c\/strong\u003e red, blue, black\u003c\/p\u003e\n\u003c\/li\u003e\n\u003cli\u003e\n\u003cp\u003e\u003cstrong\u003eWeight:\u003c\/strong\u003e 185 g\u003c\/p\u003e\n\u003c\/li\u003e\n\u003cli\u003e\n\u003cp\u003e\u003cstrong\u003ePackage:\u003c\/strong\u003e 1 * Professional Cycling Gloves\u003c\/p\u003e\n\u003c\/li\u003e\n\u003c\/ul\u003e\n\u003cp\u003e\u003cspan style=\"color: #ff2a00;\"\u003e\u003cstrong\u003eNOTE\u003c\/strong\u003e\u003c\/span\u003e\u003c\/p\u003e\n\u003cp\u003ePlease allow slight measurement deviations due to manual measurement.\u003c\/p\u003e\n\u003cp\u003eDue to the different monitor and light effect, the actual color of the item might be slightly different from the color showed in the pictures.\u003c\/p\u003e"}
Professional Cycling Gloves
Adding product to your cart
We present the gloves with a special design that reduces the friction between the handlebar and the hand, ensuring maximum driving comfort.
FEATURES
Wearing it regularly will reduce hand fatigue and soreness even after long rides, and your hands will always be fully protected even in the event of a fall.

The gloves are made of high-quality material that is impermeable to the wind, and thus fully protects the hand and allows a comfortable grip on the handlebars of motorcycles and bicycles.

The gloves have a special material on the fingers that allows the use of touch screens. This allows you to use your phone smoothly without removing your gloves!

For extra support and fit while riding, there is a special wrist strap that can be adjusted according to the size of your hand or wrist.
SIZE TABLE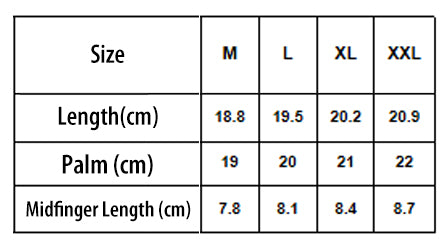 SPECIFICATIONS
Size: M-XXL

Color: red, blue, black

Weight: 185 g

Package: 1 * Professional Cycling Gloves
NOTE
Please allow slight measurement deviations due to manual measurement.
Due to the different monitor and light effect, the actual color of the item might be slightly different from the color showed in the pictures.